Everything you need to know about 10DLC registration
Wireless carriers are pushing back against spam by mandating that all message senders must register their brand and campaigns. Updated guidelines have been introduced for local numbers, or 10DLC (10-digit long codes) registration. Read on to see how we're keeping registration simple and free for our customers.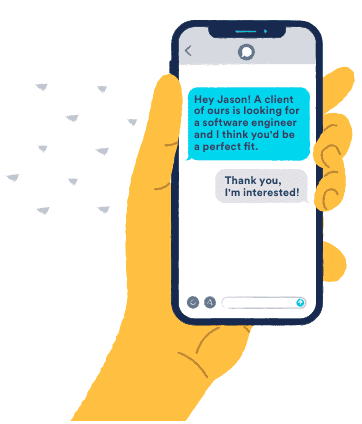 Text messaging is undoubtedly one of the most vital communication channels for any organization, and this is especially true for businesses looking to communicate important information to employees and customers.
As more smartphone users have developed a preference for texting over email and phone calls, text messaging has become an essential communication channel. Over the last two decades, text messaging has evolved from a way to keep in touch with friends to the most effective way of keeping people informed when it matters most.
If you look at text messaging compared to emails or phone calls, the overall email answer rate is very low. As people are wary of phone calls from unsolicited numbers, partly due to the rise of spam and phishing, people are more concerned than ever about who they interact with. Text messaging is now hitting the same saturation point email faced, where spam is causing several issues and is building up a wall between businesses and potential customers.
People don't want to be inundated with messages. As so many companies out there are focusing on poor messaging strategies by whatever fraudulent means necessary, this is causing many issues for organizations using business texting properly and wanting to increase communication and build trust with customers. So what is the solution to this?
In the face of increased spam messaging, the principal mobile carriers in North America (Verizon, AT&T, and T-Mobile) have created what is known as 10DLC registration. Here, we'll show you everything you need to know about 10DLC, how it will benefit your organization, and our vision for making the registration process easy to navigate.
What is 10DLC?
10DLC (10-digit Long Code) texting is a service that allows businesses to send messages to their customers in the United States and Canada using a 10-digit phone number (as opposed to a shorter, five- or six-digit short code number typically used for SMS marketing, or a toll-free phone number typically used to represent a larger nationwide company). This service is useful for businesses that send large volumes of texts, such as appointment reminders, employee communications, or emergency updates.
10DLC texting provides several advantages over traditional short code texting:
Improved deliverability: 10DLC numbers are considered more trustworthy by carriers, which increases the likelihood that a message will be delivered to the intended recipient.

Lower messaging costs: Short codes are expensive to establish, and carriers no longer support sharing of short codes.

Two-way messaging: 10DLC numbers allow customers to initiate a conversation with a business through text messaging, similar to a customer service line.

Better recognition: 10DLC numbers are local numbers and often provide more trust to recipients that see a local number vs. a short code.
What is 10DLC registration?
It is the process of applying for and obtaining approval for your organization to become a registered text message sender, which is now a requirement for businesses to send mass text messages in the United States. To register for a 10DLC number, a business must go through an approval process with their CSP (campaign service provider), like Text-Em-All, who will facilitate the registration through TCR (The Campaign Registry).
Registration typically includes the following steps:
Application: The business (the brand) fills out an application form, which must provide information about the business, such as its EIN (employer identification number), name, address, and type of messages (the campaign) it plans to send.

Review: The Campaign Registry will review the application and may request additional information or clarification if necessary. The brand will be registered, and the campaign use case will be reviewed and scored.

Approval: If the application is approved, 10DLC(s) can be assigned to the campaign by the CSP.

Cost & Fees: The Campaign Registry (TCR) charges one-time fees to register brands and monthly recurring fees for campaigns. Mobile carriers require various surcharges and setup fees for messages delivered over their networks.

Compliance: Businesses must comply with all relevant laws and regulations related to text messaging, including obtaining consent from customers before sending them. This compliance process will also be ongoing and require businesses to comply with requests from carriers or regulators.
It's worth noting that the process is equal parts automated and manual at this time and may require additional steps or documentation depending on the carrier and the business's specific needs. Start to finish the process can take days or even weeks to complete.
Businesses and organizations like yours may already use 10DLC to send messages to your customers; however, the only exception is if you use a toll-free number or a short code, both of which we will cover later on.
Why is 10 DLC registration now required?
The FCC has been pushing wireless carriers to fix the problem of spam (both calling and texting) for more than a decade. Before 10DLC, text messaging involved a 5-digit or 6-digit code for their campaigns. Customers were often asked to text a keyword through advertisements to get a short code, for example, "Text the word BUY to 12468." In doing this, the customer opted into receiving automated messages from the company.
Although short codes were popular due to their speed, volume capacity, and low cost, they had several disadvantages. Short code numbers became a problem for many reasons, including
Spam and Phishing Widespread
Spam via short code texts was incredibly difficult to slow down. As thousands of businesses could share one short code, it was difficult for spammers to be tracked down. As texting became the most effective messaging channel, short codes became a go-to method for spam and phishing attacks.
Bad Customer Experiences
Customers who opted into receiving these messages found themselves inundated with many messages they perceived as spam, meaning the consumers complained to their mobile provider and government representatives.
As many businesses may have shared a short code number, potentially in the thousands, mobile carriers struggled to identify the culprits and reprimand them. This is why 10DLC entered the picture. 10DLC started in June 2021 to eliminate spam texts and aims to make business messaging more beneficial to businesses that use it responsibly.
Mobile carriers had already begun to stop the sharing of short codes. They promoted 10DLC numbers as now being the best communication solution for businesses, trying to bridge the gap between the world of short code SMS (still used for marketing) and using 10DLC to build trust with recipients who want to receive important messages like job openings, weather alerts, appointment reminders, and messages from their religious organizations.
Hold Spammers Accountable
10DLC (10-digit Long Code) registration is now required by wireless carriers to ensure that text messaging services are used responsibly and in compliance with all relevant laws and regulations.
The main reason for this requirement is to combat spam and fraud, which are common issues with text messaging services. By requiring businesses to register for 10DLC numbers and go through an approval process, the carriers can screen out businesses that may be engaged in spam or fraud and ensure that only legitimate businesses can use the service.
Another reason why registration is now required is to improve the customer experience and ensure customer trust. With registration and compliance, businesses are more likely to send relevant messages and not unwanted or untimely messages.
In summary, registration is now required to ensure that text messaging services are used responsibly, combat spam and fraud, and improve the customer experience. Bad actors will more easily be held accountable.
Why is 10DLC good for businesses?
Registration ensures that your messages are delivered more consistently. Businesses can also access faster message delivery speeds and increased daily limits. For local numbers, 10DLC is no longer optional. Any company using business texting over a local number for mass texting must register through their CSP (campaign service provider).
Improved deliverability: 10DLC numbers are less likely to be blocked or filtered by mobile carriers, which can help improve the deliverability of text messages and reduce the risk of messages being lost or delayed. All with faster messaging throughput.

Reduced costs: 10DLC numbers are less expensive than short codes, which can help businesses save money on their text messaging campaigns.

Greater flexibility: 10DLC numbers can be used for many messaging scenarios, including appointment reminders, marketing campaigns, and customer service interactions.

Better customer engagement: With 10DLC, businesses can send personalized and timely messages, improving customer engagement and reducing the risk of customer churn.
Overall, 10DLC is a cost-effective and reliable solution for business texting and organizations that need to send high-volume SMS messages and improve customer engagement.
Text-Em-All Tip: Avoid message blocking
As the wireless carriers have gotten more serious about reducing the amount of spam, we've seen a significant increase in the number of issues related to message blocking for our customers. Many of these blocks are "false positives" triggered by the filters carriers are putting in place. Regardless, once a block occurs, the text number cannot send further messages until the issue is resolved.
Resolving message blocks should be a huge consideration when evaluating CSPs or developing your own in-house texting solution. At Text-Em-All, we have customer-facing teams that;
Have been able to resolve 80% of blocked messages

Resolve more than 50% of blocks in less than 24 hours

Only 20% of blocks take more than 72 hours
Are toll-free numbers an alternative to 10DLC?
Yes, there are several alternatives to 10DLC for businesses to send messages. The CTIA recommends toll-free instead of 10DLC. However, as of September 30, 2022, toll-free numbers also require verification. Verifying a toll-free number is a great way to tell mobile carriers who you are, what you do, and why you are doing what you're doing. Unlike local number registration, toll-free verification is free; however, it can take 4-6 weeks at a minimum to complete verification. For now, a restricted (unverified) toll-free number can still be used to send messages while the verification is in the process - although with more strict daily/weekly/monthly messaging limits and reduced message delivery speeds. Furthermore, if a restricted number is blocked, it cannot be unblocked without completing verification.
Another great reason for businesses and organizations to follow best practices and guidelines related to SMS compliance.
The complete list of alternatives includes
Short codes
A short code is a 5-6 digit number used to send texts to a large group of people. They are typically used for marketing campaigns and are best for high-volume, one-way messaging. However, short codes can be more expensive ($1000 or more per month) than 10DLC and have a higher rate of getting filtered or blocked.

Toll-free numbers
As mentioned above, toll-free text numbers are a great alternative to 10DLC. While they also require verification, there are no costs to verify and can be enabled for texting and work, just like 10DLC numbers. Verification takes longer, but numbers can be used during verification, unlike 10DLC numbers.

Messaging Apps
Native mobile apps like WhatsApp are available for smartphones and allow users to send text messages and voice messages, make voice and video calls, share photos and videos, and more. They use the internet (Wi-Fi or cellular data), thus eliminating the need for SMS or phone call charges. They are available on multiple platforms, including iOS, Android, and web browsers. It is one of the world's most widely used messaging apps, with over 2 billion active users. The major downside is that these apps require both senders and recipients to download the app to send and receive messages, which has slowed adoption in the US.
Ultimately, the choice of which alternative to use will depend on the specific needs and resources of the business.
How does the 10DLC registration process work?
The Campaign Registry (TCR) is the central hub for registering 10DLC messaging campaigns. The Campaign Registry (TCR) works with North American mobile operators and companies in the messaging business to register text messages. The registry supports a sanctioned 10 Digit Long Code (10DLC) text messaging Campaign ecosystem and provides visibility into the messaging source and content, allowing mobile carriers to offer a more reliable and straightforward messaging service for Campaign Service Providers (CSPs) and Brands.
To apply for 10DLC registration, you must work with a CSP, like Text-Em-All, who operates the service for sending your messages.
Step 1: Registration
On behalf of its customers, the CSP registers brands and campaigns on The Campaign Registry (TCR) and receives a unique Campaign ID. This process involves collecting information about the brand, what types of messages it intends to send, and which company category they fall into. It also involves selecting 10DLC numbers for the campaign.
Step 2: Publishing
The DCA uploads numbers with associated Campaign IDs to a shared industry database that enables the services needed to support that number. This ensures that SMS/MMS messages can be routed correctly via the MNOs.
Step 3: Live
The brand can now message end users as a fully vetted sender via a fully sanctioned process.
How do I get started with 10DLC registration?
When it comes to registering, the process includes information about the company, contact, and messaging. Before starting the registration form provided by your CSP, you'll need the following information.
Organization Details

DBA or Brand Name

IRS Issued EIN or TID

Organization Type

Industry

Business Type (Non-profit, Public, Private, Government)

Organization Address

Primary Contact

Message Details

Info about the types of messages you plan to send

Sample messages

Consent Details

Indicator/Proof of how people gave consent to receive messages from the organization
At Text-Em-All we've created a simple registration form for 10DLC registration using The Campaign Registry. We've been in the messaging space since our founding in 2005 and understand the importance of delivering urgent messages. Aside from not passing registration fees on to our customers, you'll find that we make the customer experience our number one priority. We'll keep you informed throughout the registration and reach out if more information is needed.
How long will it take to complete registration?
The 10DLC registration application takes just a few minutes to complete. Once submitted, the CSP will work with The Campaign Registry (TCR) to monitor and update the status of your application. Currently, this process is expected to take anywhere from 1- 5 days but may take longer, depending on your application details. The rules around registration are constantly changing, but Text-Em-All is an approved CSP with The Campaign Registry.
How much does 10DLC registration cost?
The costs for a business or organization to register will vary depending on your CSP. In most cases, the CSP passes along brand and campaign registration fees to the organization.
The Campaign Registry (TCR) charges the following fees to the CSP.
Brand Registration: $4-$44 one-time fee per brand

Campaign Vetting (Use Case): $15 per vetting event

Campaign Registration: $1.50-$10 monthly recurring charge depending on the type
Note: Each campaign has an initial 3-month commitment, and you'll continue to be charged for it even if you cancel before the 3-month mark. At a minimum, it takes $25 to register a brand and setup your campaign for 3-months, then it's $6 for every 3-months. For higher volume users, this changes to $89 to get started and $30 every 3-months after.
In addition, there could be fines if you violate 10DLC regulations. For example, as per its Code of Conduct, T-Mobile gives the following fines:
Text Enablement: A $10,000 pass-through fee if T-Mobile receives a complaint where you or your message sender text-enables a 10-digit telephone number and sends messages prior to verification of the message sender ownership and/or letter of authorization.

10DLC Long Code Messaging Program Evasion: A $1,000 pass-through fee if a program is found to be using techniques such as snowshoeing, dynamic routing, or unauthorized number replacement.

Content Violation: A $10,000 pass-through fee for each unique instance of the third or any subsequent notification of content violating the carrier's Code of Conduct involving the same content provider. This includes SHAFT (Sex, Hate, Alcohol, Firearms, Tobacco) violations, spam, phishing, and messaging that meets the Severity 0 violation threshold per the CTIA Short Code Monitoring Handbook.
Text-Em-All Tip: Understanding registration fees
At this time, Text-Em-All is not passing these fees on to customers, which is an advantage for you. Additionally, wireless carriers charge various carrier fees related to registration, compliance, and inbound/outbound messaging.
Before committing to a CSP, you'll want to be sure you understand what costs they are passing along to you.
Are there other regulations for texting?
Yes, there are regulations for mass texting. In the United States, the Federal Communications Commission (FCC) enforces laws related to mass texting, including the Telephone Consumer Protection Act (TCPA), which places restrictions on telemarketing and robocalls. The TCPA requires businesses to obtain prior express consent before sending messages to consumers and provides consumers with the right to opt out of receiving further messages. Additionally, the TCPA requires businesses to include an opt-out mechanism in each text message they send. Other countries may have similar regulations for mass texting. It is important to check with the relevant regulatory authorities in your country to ensure compliance with any laws and regulations.
Principles and Best Practices for A2P 10DLC
The biggest change in guidelines in recent years is that some traffic that was considered P2P is now classed as A2P. P2P (person-to-person messaging) is defined as a back-and-forth conversation between two humans, but as the approach to A2P is consent-based, the following practices are considered appropriate for sending A2P messaging to consumers:
Give consumers a simple way to stop receiving texts

Acquire written consent before sending marketing messages

Always get the consumer's consent before you send any message
The CTIA recommends getting consent through several automated mechanisms including the following:
One-click opt-in buttons on web pages, for example, a checkbox

Sending an opt-in message to mobile devices.

Online consent collection forms
With regards to the number types you should use for sending A2P messages, the CTIA recommends the following:
How do you prevent your messages from being blocked?
Before sending text messages to a consumer, obtain their consent to receive text messages from your business. This can be done through opt-in forms or by including a clear opt-in mechanism in your text message.

Allow and abide by opt-out requests from consumers. Text-Em-All handles this automatically.

Send text messages only as often as necessary and not too frequently.

Personalize the text messages to the recipient rather than sending the same message to multiple people. Text-Em-All has personalization tokens built in.

Start the message by identifying your company.

Follow the laws and regulations: Follow the laws and regulations for mass texting, such as the Telephone Consumer Protection Act (TCPA) in the United States.

Don't use free URL shorteners in your messages. These are commonly used for spam and phishing scams.

Avoid using ALL CAPS in your messages.

Limit special characters except where you must (emojis and $ symbols)

Avoid sending excessively long messages. The short format of texting is what makes it effective. Keep that in mind when tempted to send long messages.

Never include a callback phone number that doesn't match the text number you're sending messages from. Text-Em-All can set up call forwarding for you.
Following these guidelines will make your text messages less likely to be marked as spam and more likely to be received and read by the intended recipients.