TALENT ACQUISITION AND RECRUITING SOFTWARE
Reach candidates through our text recruiting software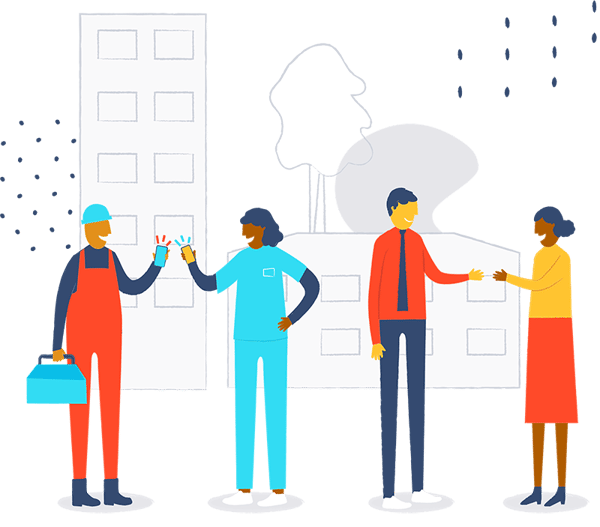 Built for staffing firms like yours
When we started Text-Em-All in 2005, our mission was to give staffing firms a simple way to reach top talent faster. Over the years, we've enhanced our calling & texting services and features to make us the industry leader.
99% Deliverability
Once a message leaves our texting platform, it gets reviewed, checked for spam, and could even get blocked by an aggregator or mobile carrier. We'll provide you with detailed delivery results and proactively resolve issues.
Designed for teams
Competitors like to charge per number, or per user, and lock you into contracts. With us, you get unlimited users & numbers. Users can share a number or have assigned numbers. We provide detailed reporting on both.
Customized for you
Text-enable your existing phone numbers (we can do that), develop custom reports, help with training/setup, customize unread message notifications, or onboard teams, branches, locations — we've got the expertise to help you!
Engage candidates and employees
Our candidate engagement software has changed the way companies engage potential applicants and employees. Our service enables you to text or call large groups with a single broadcast, saving you time and effort. Replies to a text broadcast become private 2-way text conversations, which you can manage and respond to from your Inbox.
Here are some good use cases:
Send out job alerts
Schedule interviews
Conduct initial screenings
Request missing timesheets
Confirm schedules
Answer questions
Deliver emergency notifications
Send important announcements
Texting or calling, we've
got you covered.

Our easy-to-use service gives you the tools to send important messages fast,
no matter how many people you need to contact.
Simple. Transparent.
No contracts, hidden fees, or pushy sales.
Too many awesome choices? 92% of HR/staffing organizations choose our Credits plan.
Monthly
Great for senders who reach the same contact group(s) each month and want predictable billing.

Starting from
No credits needed
Pricing is based on group size
Send messages anytime, see limits
Access to all features, see why
Powerful features for text recruiting
Auto-replies
Quickly respond to candidate inquiries at any time with our auto-replies feature. Auto-replies help improve the candidate experience by providing immediate and informative responses, even outside of regular businesses hours. Additionally, auto-replies can help organizations save time and resources, freeing up recruiters to focus on higher-level tasks and reducing the risk of candidate frustration due to slow responses.
Keywords
Automate responses based on certain keywords or phrases used by candidates in their texts with our keywords feature. For example, you can set up keywords like "APPLY" or "JOB" that trigger an automated response with a link to your organization's job board or application portal. This streamlines the application process and improves the candidate experience by providing immediate and relevant responses to candidate inquiries.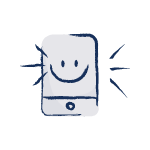 Personalization
Personalization is a key feature of any text recruiting software that helps organizations build stronger connections with applicants and improves their overall engagement. With personalization, organizations can customize their messages with candidate-specific information, such as their name, position of interest, or other relevant details. This builds trust and credibility, as it shows that the organization values and respects their individual needs and preferences.
Analytics and detailed reporting
When choosing between text recruiting platforms, make sure you can track and analyze the performance of your text recruiting campaigns, including metrics like open rates, click-through rates, and response rates. With this information, you can adjust your approach to make your campaigns more effective and efficient. Additionally, detailed reporting can help you identify patterns in candidate behavior, giving you insights into which messaging resonates best with your target audience.
Questions about texting for staffing and human resources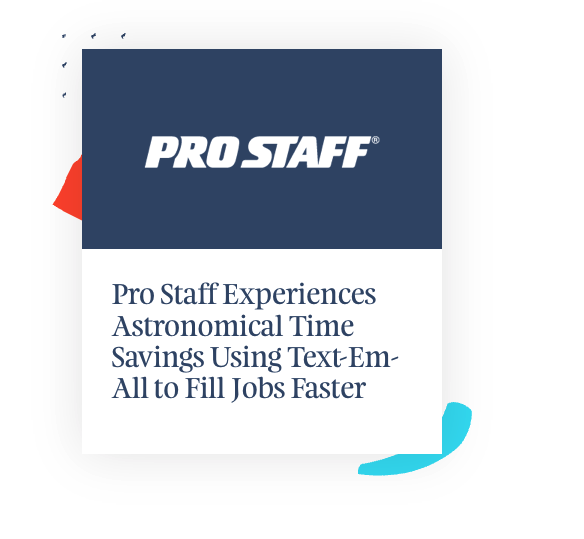 Tasked with providing companies experienced people that are ready to work on a moment's notice, Pro Staff needed a more efficient way to communicate with job seekers and make them aware of employment opportunities. "Although e-mail allowed us to send notifications quickly and easily," said Tricia Davis-Vogel, field marketing coordinator for Pro Staff, "the e-mail response rate from job seekers is often slow and inconsistent." Rather than relying solely on e-mail, Pro Staff wanted to supplement their efforts with a more immediate form of communication.
To streamline the placement process, Pro Staff selected Text-Em-All's staffing calling and texting solution to send information about employment opportunities to hundreds of job seekers every day. "Oftentimes, organizations request additional help with little or no warning," said Davis-Vogel. "Text-Em-All helps us reach out to job seekers immediately because it takes less than five minutes to record a message."