CLOSINGS & DELAYS
Mass texting service for closings & delays

Keep your audience informed with timely closings and delays text alerts. Our mass texting service makes it easy to send out mass text messages to your customers or employees in minutes. Schedule messages in advance so you don't have to worry about forgetting. Our mass texting service is easy to use and affordable.
Get started for free. No credit card required.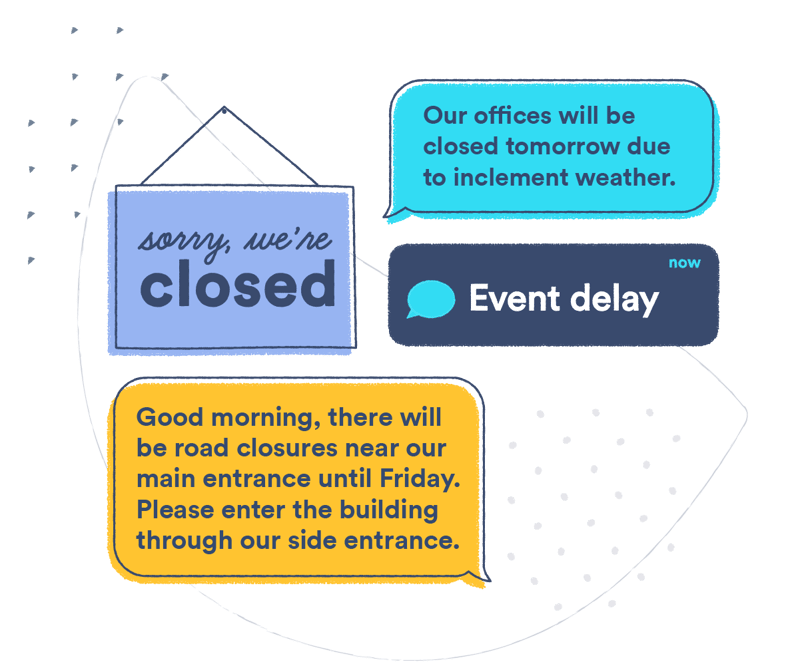 Mass texting for closings and delays: Good use cases
Mass texting is a powerful tool that can be used to notify people of closings and delays in a timely and efficient manner. This makes it an ideal solution for a wide range of businesses and organizations, including schools, businesses, government agencies, non-profits, healthcare organizations, transportation companies, event organizers, and utilities companies.

The use cases for mass texting for closings and delays are endless. By using a mass texting service, businesses and organizations can keep their audiences informed and updated, even in the event of unexpected events.
Here are some good use cases:
School closings or delays for weather or emergencies
Businesses with store closings due to disruptions
Road closures and public transportation delays
Event cancellations, delays, or changes
Utility service disruptions or maintenance updates
Key features
Text-Em-All has powerful features like automation, templates, surveys, personalization, scheduling, keywords, api access, integrations, and much more. Below you'll find some of the key features.
4 Benefits of mass messaging for event planning
Improved Communication
Text-Em-All provides event planners with an easy and effective way to communicate with attendees before, during, and after the event. With a 98% open rate, sending a mass text message is one of the best ways to get in front of your audience on a platform they check multiple times a day. This helps reduce misunderstandings, ensures attendees are informed about changes, and increases engagement.

Time-Saving
Using a mass messaging platform allows event planners to reach their entire audience in just a few clicks. With the ability to schedule messages in advance and use automation tools, Text-Em-All offers event planners the freedom to set up communication when they have time rather than worrying about timely communication close to the event in addition to all their other responsibilities.

Increased Attendance
Sending save-the-dates early on and then reminders closer to the date of your event can increase attendance significantly by keeping your event at the forefront of your invitees' minds. This also will ensure your guests arrive on time, and having the information at their fingertips can reduce day-of questions they might have.

Analytics and Insights
Our analytics and custom reporting can help event planners understand attendee behavior and preferences better. We also provide completely transparent deliverability information, so you'll never wonder if your contacts received your message. These insights can be used to improve future events and make data-driven decisions.
Questions about texting for closings and delays
Simple. Transparent.
No contracts, hidden fees, or pushy sales.
Monthly
Great for senders who reach the same contact group(s) each month and want predictable billing.

Starting from
No credits needed
Pricing is based on group size
Send messages anytime, see limits
Access to all features, see why