Quickly deliver urgent messages
Businesses around the country are finding more and more uses for business text messaging services and calling solutions. Text-Em-All's business clients are saving money, improving customer service, speeding up response times, communicating more effectively, and increasing sales using our easy-to-use platform.
Business text messaging examples:
Emergency notifications
Appointment reminders
Important/last-minute announcements
Employee notifications
Shipment/delivery/arrival information
Event changes or updates
Past-due notices
Service updates
Why should I use a business texting service?
Our texting software offers many benefits, including an easy-to-use platform, outstanding deliverability, and award-winning customer support. Other notable features include:
Automation
Use our easy-to-use automation features to respond to and engage with your contacts even while you're unavailable. We currently offer auto-replies and SMS keywords automation features.
Conversations
Using a mass texting service, you can send a mass message to a large group of people and then engage with individuals 1-on-1 without the entire group seeing your conversation.
Integrations
We have several existing integrations to give you a seamless experience with tools you use every day. In addition, we have an open API so we can integrate with software you use or have developed.
Texting or calling, we've got you covered.
Our easy-to-use business texting service gives you the tools to send and receive important messages fast, no matter how many people you need to contact.
Mass Business Texting Benefits
Automatically detect mobile numbers
Schedule messages in advance
Manage replies and carry on conversations
Text from your business number (even landlines)
Access templates and personalize texts
Automated Calling Benefits
Reach 100% of your contacts
Adjust call speed to regulate reply volume
Save recorded messages for future use
Leave voicemails if contacts don't answer
Let contacts easily connect to a live person
Affordable, no-hidden-fee pricing
Pay-As-You-Go Plan
5¢-9¢
per message
Price dependent on how many message credits you purchased. One credit is good for one 30-second call or 160-character text message.
Monthly Subscription
starting at
$7.50
per month
Price varies based on how many unique phone numbers you contact each month. Message your contacts as much as you like.
Every five-star review puts a smile on our faces*
*And boy our cheeks are getting tired.
Text-Em-All is the best thing we've ever implemented. I was able to integrate Text-Em-All into my retail app to send recorded voice messages to customers, saving staff hours of time. I've had nothing but good experience with Text-Em-All. Their API instructions are clear and make it easy to set up the features I use.
The website is extremely user-friendly and a "breeze" to use. Overall, I use this service to quickly and easily communicate with my workforce. Employees today want communication that is 1) fast, 2) easy, and 3) speaking their language. Text-Em-All has this and more!
This service has made communication with employees MUCH easier! It shows when texts have been delivered, and it keeps a record of all sent and received messages, which is great as well. Overall we are very glad we learned of Text-Em-All and are utilizing their services.
9 Business texting etiquette rules to remember
Pay attention to your timing.
Messages sent after-hours are considered urgent, so sending a billing or appointment reminder, or anything that could be handled during business hours is not a good idea.
State who you are.
If the contact doesn't know who you are, they might ignore your message, especially if it is coming from a number they don't recognize.
Keep your text brief.
The purpose of texting is to communicate short messages quickly, so don't make it complicated or in-depth. Get your message across as succinctly and rapidly as possible. Try to stick to one topic per message.
Text clear, specific information.
Get to the point right away. Present the most important ideas right up-front to be sure your message is received, loud and clear.
Mind your tone.
The use of texting in all caps to grab attention, to convey importance or urgency, or emphasize a thought is a common stylistic usage in the internet age. However, it can also convey an aggressive tone.
Respond promptly to replies.
Be prepared to respond to texts immediately after you send out your broadcast. People become frustrated when they feel like communication only goes one way. If your broadcasts are pre-scheduled, be sure you have somebody standing by to send text replies.
Use proper spelling and punctuation.
Edit and proof your messages before you send them. Make sure all words are spelled correctly so that you don't confuse what you're trying to say. If you frequently send similar messages, think about using templates to minimize errors
Do not text confidential information.
Texting is less private than talking on the telephone or in person. Words live on forever, so if you have something particularly personal to talk about, it's probably best done on another channel.
Avoid abbreviations and emojis.
Make your messages short and to the point, but resist the urge to abbreviate words and phrases, and avoid acronyms if you can. While it might sometimes be appropriate to shorten a common word or phrase, it doesn't always look professional. A good rule of thumb is never abbreviate anything you would not feel comfortable spelling out. It's better to type out the entire word or phrase to be on the safe side.
Business text message questions
The future of text messages for business
It is predicted the number of businesses using text messaging as a form of communication is only going to grow. It is predicted that 3.5 trillion business SMS messages will be sent in 2023 which is an increase of 1 trillion from 2019.
It's safe to say that sms text messaging for commercial reasons won't be going anywhere soon. Although it seems to be a more analog way of messaging in an age of Facebook bots and instant chats, it doesn't cross the line between commercial and personal.
Messaging by SMS will remain a crucial channel for businesses to send and receive communications for the foreseeable future. In fact you can expect to see a lot of enhancements to text messaging in the coming years. Ready to get started with our free trial?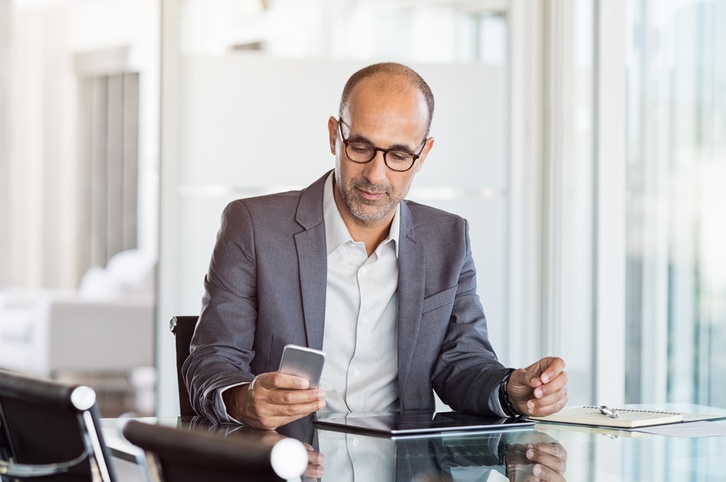 How to use business texting
Customer Service
Using text messaging can be an efficient way to handle customer service. First off, it saves time. Using a generic customer care email address for customers' queries and complaints can take a long time for employees to go through the individual text messages. The back and forth between customer experience representatives and customers can be time-consuming, thus prolonging any problem.
With text messages, customers can directly contact an agent and get their inquiry or issue dealt with faster. This will provide a better customer experience for your company and lead to more positive reviews and repeat business.
Text messaging is also an effective way to build rapport with your customers and manage relationships. It is a way to help customers feel more personally connected to your business, and dealing with issues over text effectively can be a way to gain customer trust.
You can use a business messaging platform to set up texting. Once you create your account, it will be simple to set up, schedule messages, manage notifications, and communicate effectively to increase customer relationships.
Other uses for business text messaging
Although customer service is one of the most common uses for business texting, there are plenty of other ways to use business text messaging services effectively. Some examples are:
SMS Surveys
If you want to conduct some research for a new product or service or simply get feedback on how your business is currently performing, speaking with the stakeholders in your business is of utmost importance. One of the most successful ways to gather customer feedback is by asking your customers to complete a survey. This can easily be done through text.
If you make the text survey simple and quick to complete, customers are more likely to complete the survey by text rather than email. According to research, 31% of consumers reply to surveys within 5 minutes of receiving them.
Auto-replies
Some questions and inquiries don't require a personalized response. To deal with these messages, you can set up auto-replies through your business texting software. If you have a number on your website that clients can send a text to, it can be an effective way to manage incoming communications from prospects.
Business texting can be positive!
Here are just a few ways your business can use text messaging for good:
Customer anniversary messages.

Show your customers you genuinely care with a quick, personalized text message to help them celebrate the milestones of life.

New employee welcome messages.

The first days of work can be the most stressful. Welcome your new hires with a friendly greeting that helps them transition into a new role.

Weather emergency notifications.

Notifying your community of incoming severe weather events can help save lives. Bad weather can hit seemingly out of nowhere, so knowing what to do and where to go is imperative. Be a port in the storm.