Built for staffing firms like yours
When we started Text-Em-All in 2005, our mission was to give staffing firms a simple way to reach candidates faster. Over the years, we've enhanced our calling & texting services and features to make us the industry leader.
99% Deliverability
Once a message leaves our platform, it gets reviewed, checked for spam, and could even get blocked by an aggregator or mobile carrier. We'll provide you with detailed delivery results and proactively resolve issues.
Designed for teams
Competitors like to charge per text number, or per user, and lock you into contracts. With us, you get unlimited users & numbers. Users can share a number or have assigned numbers. We provide detailed reporting on both.
Customized for you
Text enable your existing phone numbers (we can do that), develop custom reports, help with training/setup, customize unread message notifications, or onboard teams, branches, locations --- we've got the expertise to help you!
Engage candidates and employees
Our staffing calling and texting service have changed the way companies engage candidates and employees. Our service enables you to text or call large groups with a single broadcast. Replies to a text broadcast become private 2-way text conversations. You can manage these replies in your Inbox.

Read reviews from other customers
Here are some good ideas:
Job fills for temporary staffing firms
Request missing timesheets
Deliver emergency notifications to employees
Improve recruitment efforts
Database cleanup
Confirm schedules
Important announcements
Texting or calling, we've
got you covered.

Our easy-to-use service gives you the tools to send important messages fast,
no matter how many people you need to contact.
Transparent pricing.
No contracts, hidden fees, or pushy sales.

Two plans to choose from. Not sure which is best for you? Try our calculator, or start a free trial and choose later.
Each contact receiving a message will consume 1 credit, longer messages consume more.
Every 30-seconds (call) or 160-characters (text) will cost 1 credit per recipient.
Monthly plans do not use credits.
Best Practices for Text Recruiting
While text recruiting software is an effective tool for a variety of reasons, if used improperly, it can result in a blocked text number, or even a complete loss of legitimacy for your staffing agency.
#1 Avoid Blasting Spam
Unfortunately, as text recruiting becomes more popular, the tool is often being abused to spam entire contact lists with job postings. Quite frankly, this practice is predatory, annoying, and detrimental to your business.
In efforts to crack down on spam, carriers are making it extraordinarily easy for contacts to report spam. And if enough job seekers report you as spam, your number will be blocked. Although it is possible to unblock your number, it's a lengthy process and texting services such as Text-Em-All cannot help you because the FTC has marked the number as spam.
It's possible to acquire another text number, but if you begin sending out the same messages to large groups of people, you will be marked as spam and blocked again.

#2 Keep Your Database Clean and Target Your Contacts
That being said, it's extremely important to clean your contact lists and target your recipients before sending out a variety of random job postings.
To clean your contact list, only use contacts who have responded and/or signed up in the last year or two. This will limit your talent pool to those who are still interested in receiving messages about new job postings.
If you don't want to clear your contact list that drastically, you can use our Text Surveys feature to easily clean your list. Remember to filter your candidates by qualifications, and only send job listings to qualified candidates.
#3 Include Opt-Out Instructions in Every Mass Message
While including opt out messaging on every mass message may seem like overkill, this practice could save your number from getting blocked. Including opt out instructions on each message increases the probability of your contact opting out instead of reporting your number as spam.
For convenience, you can make your opt out instructions a reusable template. After creating the opt out template, you can easily attach this to each mass message you send.
Text-Em-All's system automatically detects inbound messages which clearly show an intent to opt out, and we opt these contacts out for you. In addition, contacts can opt out by using the keywords: STOP, END, CANCEL or UNSUBSCRIBE.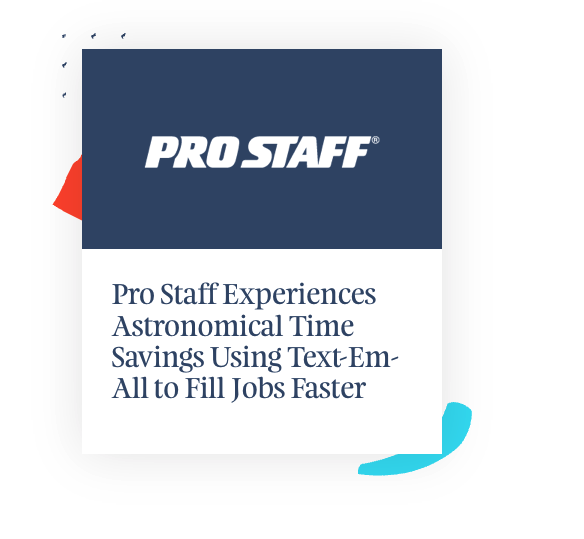 Tasked with providing companies experienced people that are ready to work on a moment's notice, Pro Staff needed a more efficient way to communicate with job seekers and make them aware of employment opportunities. "Although e-mail allowed us to send notifications quickly and easily," said Tricia Davis-Vogel, field marketing coordinator for Pro Staff, "the e-mail response rate from job seekers is often slow and inconsistent." Rather than relying solely on e-mail, Pro Staff wanted to supplement their efforts with a more immediate form of communication.
To streamline the placement process, Pro Staff selected Text-Em-All's staffing calling and texting solution to send information about employment opportunities to hundreds of job seekers every day. "Oftentimes, organizations request additional help with little or no warning," said Davis-Vogel. "Text-Em-All helps us reach out to job seekers immediately because it takes less than five minutes to record a message."