At Text-Em-All, we are always looking for ways to make the recruiting process easier for our customers so that they can build stronger relationships with candidates and fill jobs faster. As such, we're thrilled to announce our newest integration with Bullhorn's innovative and state-of-the-art staffing software. Our mutual clients can now personalize text messages, keep conversations notes and candidate records in sync, and stay current with the latest Text-Em-All features within Bullhorn. Our mass texting, automated calling, and 2-way text conversations are all available to mutual customers at no additional cost.
Text-Em-All: The Only True Mass Messaging Integration
Unlike other messaging solutions, Text-Em-All is the only company capable of providing Bullhorn clients with a true mass messaging service. Through this integration, Bullhorn users will be able to send text and voice messages and two-way conversations to as many candidates as needed at any time. No batch limits. No message throttles. And best of all, we are experts at phone number lookups to determine if a phone number is a landline or cell.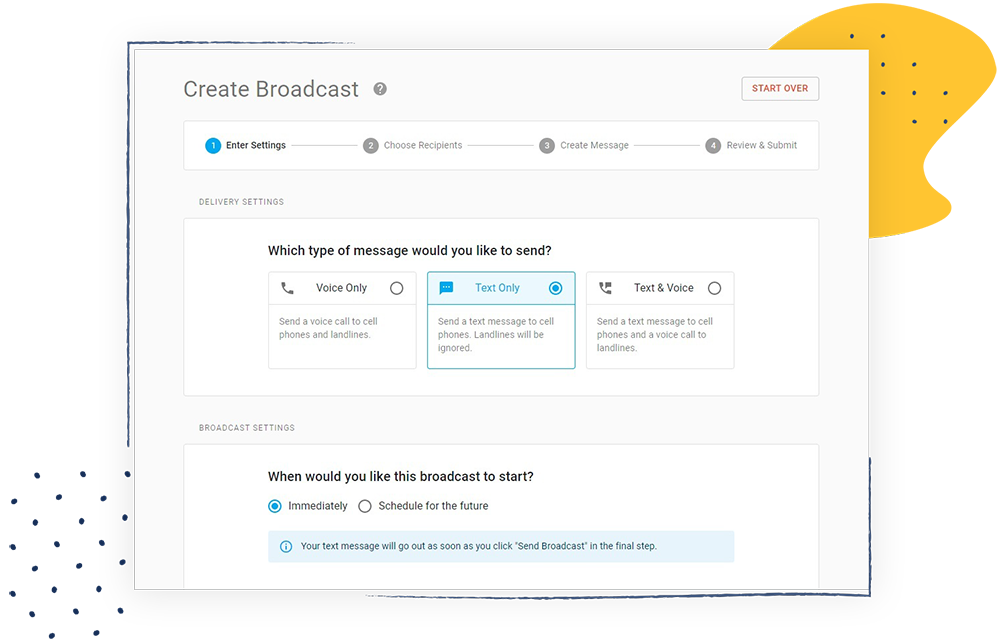 A Single Sign-On (SSO) Approach
Text-Em-All's full broadcasting suite is available right inside Bullhorn. This means that recruiters who need to message groups, tear sheets, or other large batches of candidates, can do it without leaving Bullhorn. Simply search for the candidates or employees you want to contact, choose the Text-Em-All option, and that's it! You'll be immediately signed in to your Text-Em-All account and put directly into step 1 of creating a broadcast. The best part? Your contacts have already been sent to us, so you don't need to upload a file of phone numbers, and Bullhorn users will automatically get access to any new features that Text-Em-All introduces into its system.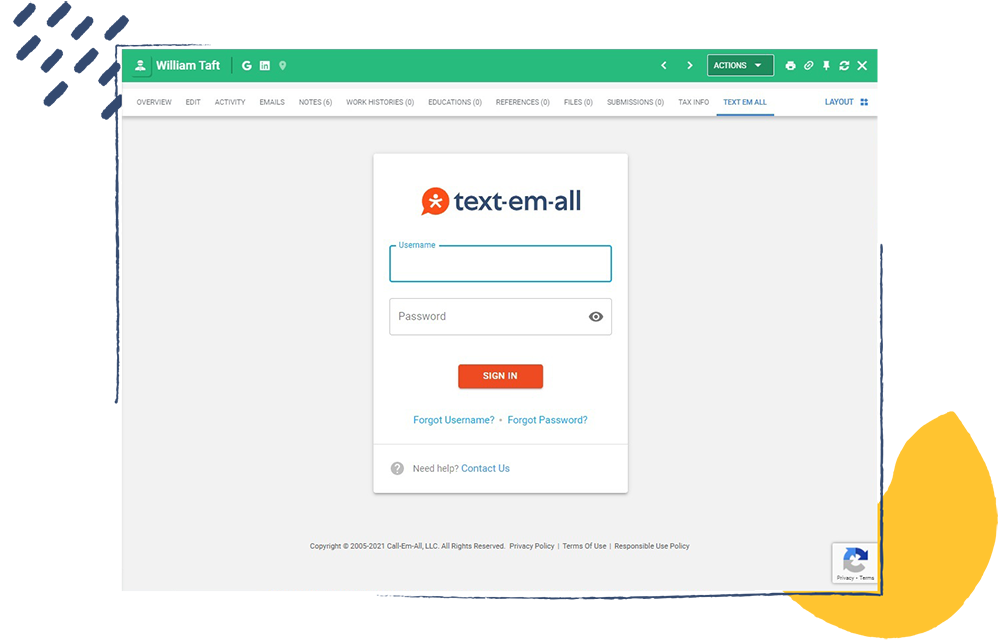 Keep Notes in Sync & Easily Manage Replies
Once you're finished creating your broadcast, you'll be returned to Bullhorn, and we'll log all the notes in the candidate profiles automatically, so everyone on your team knows who's messaging who in real-time.
As replies come in, there are two places you can manage these. First, you can go to the candidate's profile and open up your 2-way text thread with the candidate. There you will be able to see any messages you've sent them or that they've responded to you. Additionally, you can view your Text-Em-All Conversations Inbox so you can view all active and past candidate conversation threads between your company and your candidates. This way, you have a one-stop shop to see all your conversations between candidates and teammates.
Why Choose Text-Em-All?
Since 2005, Text-Em-All has changed the way companies engage candidates and employees. When it comes to important messages, our clients depend on us to get their messages out quickly.
"We are eager to launch Text-Em-All's new integration into the Bullhorn marketplace. As Bullhorn continues to expand its footprint into the light industrial space, it became apparent that our mutual customers would benefit by leveraging our mass text and voice messaging solutions with our new enhanced seamless integration. Whether it's for the clients who've depended on our legacy integrations for years or those who will discover us for the first time in the Bullhorn marketplace, we can't wait to help usher in the next era of candidate engagement and automation."

- Brad Herrmann, Founder, and President at Text-Em-All.
By working closely with the mobile carriers (AT&T, Verizon, etc.) to ensure our messaging follows the industry regulations, we can ensure that our staffing clients' text and voice messages are delivered successfully. We strive to be as transparent as possible so that our clients know how successful their messaging initiatives genuinely are, which is why we do everything we can to remove any throttles or blocks their messages may receive. Additionally, we provide delivery results so that users can measure the success of their campaigns.
Because our services are simple, easy to use, and reliable, 12 of the top 20 staffing firms choose us. We provide 24/7 customer service that is professional, knowledgeable, and personable. Working with more than 1,000+ staffing clients, we understand the industry. Connect with an Account Manager today to learn more about getting started on the Bullhorn and Text-Em-All integration: