The U.S. National Center for Education Statistics estimates that around 19.7 million students will attend colleges and universities in fall 2020. As you can appreciate, it's going to be a busy time for universities across the country.
While students everywhere are getting to grips with campus life, one thing that will play on the minds of accounting departments at all universities is tuition debt, tuition collection, and collection agencies. It's a multi-faceted challenge and nuisance that affects educational institutions all over the United States.
All students must make their tuition payments on time to avoid tuition debt and any problems with their studies, student accounts, credit report, and even collection agencies. The trouble is that university students aren't always good at paying their tuition fees in a timely manner. And many find that their tuition ends up being past due, which could negatively affect their student accounts and credit report and result in a call about tuition debt from a collection agency or collection company.
Why is the collection process such an issue for universities?
Your university's collection services issues aren't unique - it's a problem shared by virtually all educational institutions across the country. Why is it so hard for students to pay their tuition fees on time and avoid tuition debt and delinquent accounts?
The are a variety of reasons, but one reason is undoubtedly down to each individual student's focus. They are busy studying, researching, preparing for future exams, and even working, and it takes up most of their attention.
Another reason is most likely due to communication methods. You may have a collection policy that includes sending out invoices and reminders by email or even conventional mail to a mailing address. The trouble is, both methods are easy to miss by recipients and outdated, and tuition payments end up being past due - resulting in tuition debt. Correspondence might even get intercepted by filtering software in the case of emails, and collection agency calls might get interpreted as spam resulting in a low credit score.
The answer to making collections less of an issue is very straightforward: skip using a third party collection agency for debt collection and instead use automated text messaging as part of your collection policy.
How text messages can help improve the process
The way younger generations communicate these days is very much reliant on technology. Most people, especially students, use various digital messaging platforms because they are quick, easy, and convenient ways to contact and communicate with other people.
Text messaging is, by far, one of the most commonly-used and preferred communication methods around the world. In the United States alone, the latest statistics show that 2,098 billion text messages got transmitted in 2019. (Wow, that's a lot!).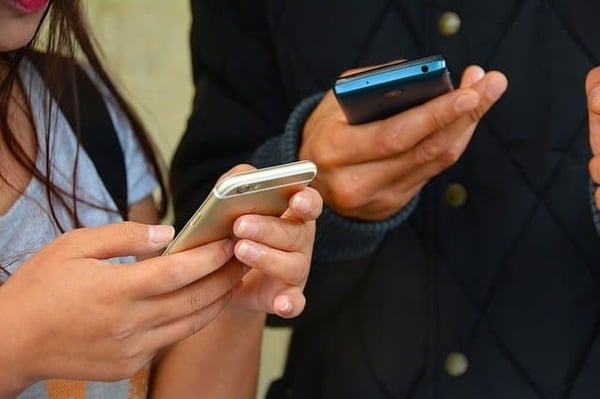 Other research shows that many of today's college and university students prefer text messaging over other communication methods like telephone and email.
With those thoughts in mind, it makes sense to harness the power of automated text messaging and use it as part of your university's collection policy to avoid delinquent accounts and the use of a debt collector at a collection company. Text-Em-All offers universities the perfect platform to achieve more timely collection rates and avoid relying on collecting a student's mailing address or a collection agency for debt collection.
Here's how automated texting can help your university streamline its collection policy:
Advanced scheduling
It takes a lot of time and is a rigorous process to go through student payment data and determine which students will soon need to pay you their tuition fees. Using Text-Em-All's innovative automated scheduling technology, can help you plan those reminders well in advance of the due dates.
Customizable Templates
You want to make sure that each text message sent to remind your students of their tuition fee payments gets tailored to each person. Text-Em-All makes it easy for your team to create customizable message templates. Also, text message templates help increase response rates with personalized fields, such as first name or tuition amount due.
Text from your department's local phone number
The last thing you want to happen is for students to disregard your team's messages because they believe the communications aren't genuine or don't recognize the phone number. That's why with Text-Em-All, you can text-enable your local office number as the sender so students will know and trust your messages.
Manage replies from students
Some of your university's students might wish to discuss your tuition fees or clarify certain charges. The advantage of using Text-Em-All's messaging platform is you've got the power to manage replies from your students easily. The Conversations feature allows you to have one-on- one conversations with your contacts directly within your account in addition to being able to quickly message up to 15 contacts.
Add a URL link for online payments
Finally, you can add a URL link to your messages so your students can quickly pay online by using their mobile device. Including URL's in your text message is a great way to share information with your recipients. They can simply tap on the link in your message, and their phone's web browser can take them to a secure payment page. However, many spammers use links to run scams. For best practices on sending URL's in a text message, read this support article.
Five ways to improve your collection policy:
While text messaging is the perfect way to remind students about upcoming tuition fee payments, you should also revisit your tuition collection policy. Here are five practical ways that you can improve your process and avoid delinquent accounts:
1. Communicate your payment instructions clearly
You don't want to make it confusing for students to know when and where they should pay their college tuition dues. You might not realize it, but one reason for past due payments at universities is down to badly-defined or complicated payment instructions.
That's why it makes sense to communicate your payment instructions to each student clearly. Students - and their families - lead busy lives and seldom have the time to scrutinize lengthy payment instructions.
The answer is simple: make your payment instructions brief, easy to understand, and straight to the point - whether its financial aid or self-pay instructions. Some ways to achieve that goal include: making payment due dates highly-visible on online accounts and emails or creating a video explanation that shows students and their parents the process in simple-to-grasp steps.

2. Create well-defined payment options
It might shock you to learn that a significant proportion of students and their families don't know how to pay for any college tuition fees! These days, there are scores of ways to pay for things, so you must make it clear how payments can be made in a timely manner to your university to avoid penalty.
For example, can invoices be paid by direct debit? What about debit and credit card payments? And is it possible for students or their parents to pay fees via a lump sum of an electronic transfer or an online payment system like PayPal? What about student loans and interest rate?
You should also clarify to students and their parents if there are any financial penalties for late payments of college tuition fees. Often times, late payments can result in hefty fines or even force a student to be dropped from a class. Additionally, you wouldn't want your credit report to be affected in the long haul.
3. Make the payment process quick and easy
Even the most patient people in the world will soon find a lengthy payment process extremely frustrating and irritating! That's why you need to make sure your university's tuition fee payment process is straightforward and speedy for both students and parents alike.
It's relatively easy to implement a quick and straightforward process. It can be something as simple as clicking on a "Pay Now" button in a user-friendly student or parent payment portal that uses a pre-stored payment method, such as debit cards, credit cards, or ACH information.
You may also wish to investigate billing software that lets you integrate such functionality into secure areas of your website.
4. Send students and parents reminders to pay their upcoming tuition fees
For the most part, university students or their families forget to make tuition payment as they've typically got other personal things on their minds that demand much more of their focus and attention. In an ideal world, you wouldn't need to remind students and their families about tuition dues.
Sadly, we don't live in an ideal world, and so sending payment reminders is a brilliant way of making collection services easier on university staff, parents, and students. As you can imagine, processing payment reminders manually is an exhaustive task and one that is simply not possible for administrators and your team.
That's why it's a great idea to use an automated and scheduled approach to communication, such as text messaging with the Text-Em-All platform.
5. Make your overdue payment outreach process more efficient and streamlined
One final tip to revamp your policy is streamlining your outstanding payment outreach process. Again, students and their families may simply have forgotten to settle their latest tuition fees.
Of course, some students might find it tough to make their tuition payment for other reasons. You could use Text-Em-All's platform to reach out to students and their families and offer them help and support to settle their accounts with a lump sum or payment plan.
It's also worth following up automated messages with calls from your team so that everyone can reach an agreeable and speedy resolution.
Frequently Asked Questions about Text-Em-All's Service
The following are some of the most commonly asked questions that university collection teams have about using the Text-Em-All platform:
Q. Can I send non-scheduled text message tuition reminders to students, parents, and other message recipients?
Yes, it's possible to send non-scheduled text messages and phone calls to your students. When creating a broadcast within your account, a customer has the option of either sending the message immediately or scheduling it for a later date and time. One example of why you'd want to do that might be to confirm that the tuition payment has been received or inform them about payment processing issues or refunds.
Q. How can I respond to replies from students, parents, and other message recipients?
If students, parents, or other individuals reply to your text messages, you can use your Text-Em-All account's "Conversations" section to manage all responses. The Conversations feature allows you to have one-on-one conversations with your contacts directly within your account in addition to being able to quickly message up to 15 contacts. These incoming text messages are always free.
Q. How fast is the Text-Em-All automated messaging platform?
Text-Em-All delivers automated text messages and phone calls at speeds of approximately 2,500 messages per minute.
Q. How soon can my university start messaging students, parents and other individuals?
You can start to use the Text-Em-All platform as soon as you've set up your account. Keep in mind that you must only message students that have given consent to receiving text messages from your university. Also, Text-Em-All's service cannot be used with the intent of sending marketing, promotional, political, or charitable contribution messages.
Q. Can students opt-out of receiving text messages from my university?
Yes, if students no longer want text message reminders about their tuition fees, payment plans, and student loan, they can reply "STOP" to cease text communications. When students opt-out of receiving your text messages, your Text-Em-All account will immediately block that student's mobile number. Our system detects inbound messages which clearly show an intent to opt-out. This will save you time and ensure you are communicating with an engaged audience. The Text-Em-All account holder can also opt-out phone numbers directly within the account.