I'm reposting this blog post from a couple of years ago when we were chomping at the bit to announce our mobile web app. Our mobile web app is still available today and is a great way to access your account when you are on the go. We've added some new features and enhancements to our service over the past couple of years, so it might be worth revisiting the app to see if it works for you.
Technically, our mobile web application isn't an app at all - it's more like a mobile website. It allows you to access the logged-in portion of your account and perform some key functions with an experience optimized for your mobile device. Because this isn't a native app, you don't have to download anything.
You can find all the features of the app below or if you can't wait one more minute...check it out on your smartphone. No app store necessary.
Exciting Features
Easy Voice and Text Broadcast Creation
Full Broadcast Management
Manage All Contacts and Groups
Full Account Management

Add Credits or Upgrade Group Size
Update Voice Settings
Manage SMS Keyword

Access Audio Library
This app is the result of our entire engineering team (even our intern pitched in) working tirelessly to create an experience we are proud of and excited to finally release. The design is sleek, intuitive, and uses the latest mobile technologies. As always, we've strived to create an app which helps you to quickly and easily send Call-Em-All broadcasts to your contacts via an automated message.
Broadcasts At The Forefront
Let's be honest. You want an app that helps you send a broadcast faster when you are on the go and away from your computer. We've created the app with that as our focus. Creating every type of broadcast, whether it be a voice, text, or combo broadcast, is streamlined and easy to do. But after your broadcast is sent, you want to see the results in a way that is easily digestible. You need an app that allows you to manage your entire Call-Em-All account and with this app you can do just that.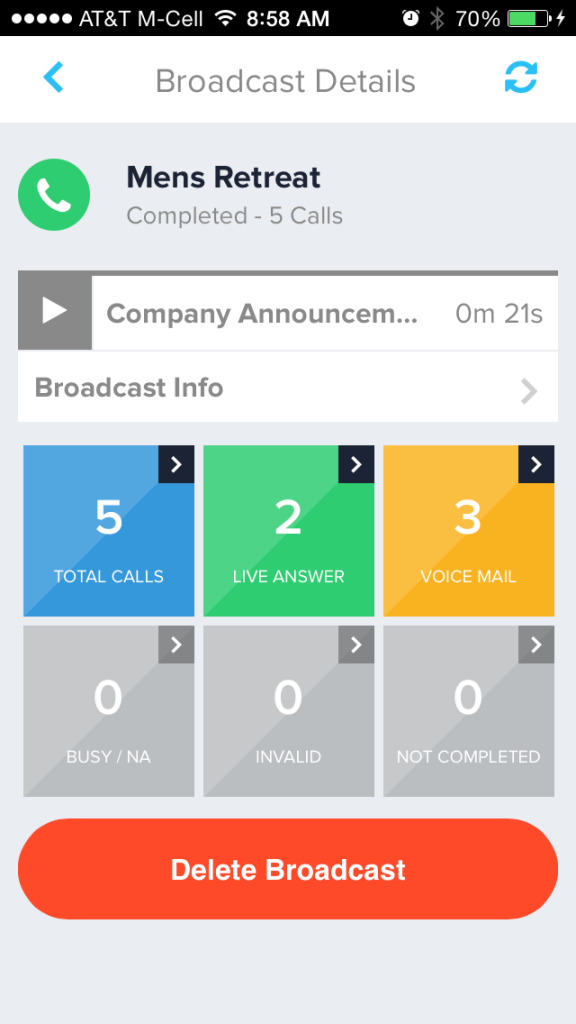 Add, Edit and Delete Contacts
Contact information changes from time-to-time, so don't be locked into your original lists and groups. You can add a contact to a group following a meeting or change a number for a contact that has recently moved.
Access All Your Audio
Your audio is at your fingertips. Listen to past broadcast audio, reuse audio for upcoming reminders, or even add audio to your library. Your audio library is always up-to-date with your latest audio and easily lets you listen to it right from your phone.
Manage Your Call-Em-All Account
Whether you need to buy more credits or manage your group size, you can do it all from your smartphone. This isn't just an app to send a broadcast, this is the power of Call-Em-All in an app on your phone.
Why No App Store?
This is a question we thought you might ask so we took a cut at answering it by describing how a Web App Isn't a Dirty Word.
So check out the app and let us know what you think in the comments below, on twitter, or send us an email.
Related Categories
Ron Kinkade is the Head of Marketing at Text-Em-All, an automated calling and mass texting company that provides solutions for small and medium-sized businesses, large corporations, membership organizations, community groups, and individuals. Ron has more than 20 years of experience with a proven track record of success. Ron enjoys bass fishing, beach vacations, and spending time with family.