We believe in doing the right thing, which is why we provide detailed delivery results for your text broadcasts. What if your message was rejected for possible spam? What if a phone was unreachable? What if it was sent to the carrier but didn't make it to the handset? That's the experience we're trying to improve for you with better text broadcast details.
WHY ENHANCE THE FEATURE?
It's all about transparency and giving the best information possible. The expectation for transparency has been extended beyond personal interactions and should now be a reality in businesses. Withholding or cleverly shaping information is no longer a viable option for this new era of consumers.
At Call-Em-All, we want to build a sense of trust with all interactions, not just the negative ones. Because of our dedication to being transparent, we are more thoughtful and precise in the decisions that we make. Our goal is to engage and inform anyone interested in seeing what happens during the text message delivery process. Overall, 90%+ of our messages get a confirmed delivery.
UNDERSTANDING TEXT BROADCAST DETAILS
After sending a text broadcast, our system will collect the result of each message from the end carrier (e.g. AT&T, Verizon). You can view your text broadcast results from your Broadcast Details page by clicking on the broadcast from the Home screen. Typically, these results are available immediately, but sometimes cellular carriers can take up to 24 hours to send us detailed results.
WHAT ARE SOME TEXT DELIVERY RESULTS?
DELIVERED:

Sent to Carrier:

Message was received by recipient's mobile carrier. Not all carriers return a handset delivery receipt.

Delivered:

The recipient's phone confirmed that the message was received.

FAILED:

Phone Unreachable:

There are many scenarios that can lead to a cell phone being temporarily unreachable. It could mean the phone is out of its cellular service area, is not currently enabled for text messaging, or is on a prepaid plan and is out of allotted messages. In addition, there are occasional network failures on the carrier side that could lead to failed message delivery. Lastly, we have seen circumstances where this means that the contact has a spam filter enabled for their phone number, this seems to be more prevalent among T-Mobile customers.

Rejected for Possible Spam:

If carriers believe the text messages being sent from your text number are spam, they are likely to block your messages.

INVALID:

Displays phone numbers that opted out before message was sent

INCOMPLETE:

Lists phone numbers that were not contacted because the system was unable to complete. (ex. Canceled or expired message)

OPTED OUT:

Contacts that replied to your broadcast with an opt-out request (e.g. Stop, please remove me from your list, wrong number)

REPLIES:

These are the inbound text messages that your contacts have sent in response to your message. Here you can respond to individuals or adjust their status to be opted out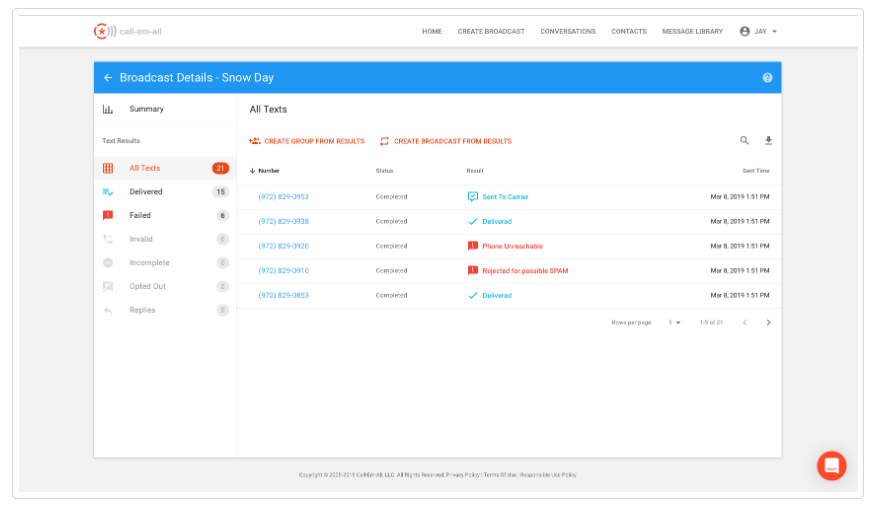 Related Categories
Kaitlyn Orred is the Digital Marketing Specialist at Text-Em-All, a mass texting and automated calling company that provides solutions for small and medium sized businesses, large corporations, membership organizations, community groups, and individuals. She has 7 years of experience in content creation, and you can catch her practicing yoga, curling up with a great book, or hiking with her Mini Aussie, Koda.