There's no denying that effective communication is crucial for churches. As a leader of your church community, you've got several ways of reaching out to your congregation, volunteers, employees, and visitors.
Did you know that one of the best ways of communicating with others in your church is through text messaging? It's an easy and reliable way of broadcasting messages, and from your perspective, it's also a time-saving one.
This handy article is for you if you're new to text messaging congregants and others associated with your church. That's because it details church text messaging etiquette so that you can get your messages across quickly and effectively. Here's what you need to know:
Knowing the basics of text messaging
You've likely sent text messages to people from your mobile device and also received them. When it comes to church text messaging etiquette, it's essential to learn the basics of text messaging as a whole, including industry acronyms.
First of all, text messaging is officially known as SMS or Short Message Service. As the name implies, you can send brief text-based messages to others. The character limit for text messages is 160.
If you want to send longer messages and include things like images and other multimedia, there's also MMS (Multimedia Message Service). When communicating with congregants in your church, you can use SMS, MMS, or a mixture of the two formats.
It's worth keeping in mind that MMS messages typically cost more to send than SMS ones and that the mobile phones of some recipients might not be correctly set up to receive MMS messages.
On the other hand, all mobile devices can receive SMS messages, but the downside is the character limit and the lack of multimedia options. Now that you understand the terminology and basics of text messaging, the question is this: why should you use it?
The benefits of text messaging
You might assume that many people don't use text messaging these days, given how most individuals are on social media. But, it might surprise you to learn that text messaging is getting more popular!
In the United States alone, people sent just over two trillion text messages in 2019. Plus, that's a figure that increased from 2018. Despite the rise of social media, why is text message still so popular today?
One of the reasons is accessibility. An important fact of text messages is you can receive them on any mobile phone. You don't even need the latest smartphone technology to receive SMS messages; a basic $10 cell phone will receive all text messages with ease.
Even though smartphone ownership is rising each year, many individuals prefer to use basic mobile phones. Examples might include senior citizens, people on a low income, or individuals that don't wish social media to be a part of their daily lives.
Another key advantage of text messaging is recipients can quickly and easily process a 160-character message. As with emails, text messages can get read at one's leisure. However, text messages don't end up in a long unread queue as emails sometimes do.
To receive a text message, recipients only need to have an excellent mobile signal at their location. They don't require Internet access to download messages, which you'd need to receive emails.
If you're still not convinced that text messaging is the right communication medium for your church, check out these other benefits:
Text messages get sent and received instantly
When you send an email, there can sometimes be a long delay before it reaches the recipient. That delay can often be commonplace when using free email accounts. Plus, there's no guarantee the recipient would even know you sent them an email!
Inbound emails can sometimes get diverted from your inbox and end up straight into the Junk Mail folder, never to be seen. As you can imagine, that's not something you want when communicating messages to your congregation.
SMS text messages don't have such problems. For a start, they get sent and received almost instantaneously. That's the case even when message recipients are on a different mobile network to you!
Text messages, irrespective of their content, also stays in one place: your inbox. When you broadcast messages to people that are a part of your church, SMS texts have a clear advantage over other mediums like emails.
Text messages foster conversation
Sometimes the recipients of messages you broadcast to others in your church may wish to respond. That isn't always possible if you use email broadcasts, especially when the emails get sent through a third-party cloud service.
Again, text messages have more apparent benefits over communication mediums like emails. The people you message can respond to you, resulting in stronger relationships with your congregation. You can also personalize messages to foster conversations with them.
Text messages feel more personal
When you receive an email message from an organization or some other entity, it's easily identifiable as a mass-mailer. Sure, it might have your name in the email content, but otherwise there's nothing personal about it.
Text messages are different in that respect. They feel more personal to the recipient because of the format and method of communication. You can use SMS messaging to easily track conversations and identify areas of need or support.
Text messaging etiquette for churches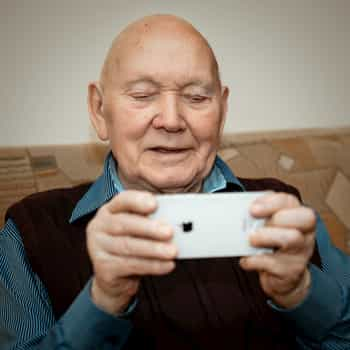 Now that you've seen a bunch of reasons why text messaging makes sense, you should know how best to harness it. You might be thinking that the older people in your church might not be comfortable texting, but you'd be wrong. According to the Pew Research Center, 86 percent of Americans over age 50 communicate with text messaging. For those ages 50-69, texting has actually surpassed email as their preferred method of communication. So don't let age stop you from texting your members. There are a few things you must know before you start broadcasting SMS or MMS messages to your congregation:
You must get people's permission first
Your church isn't a business or some other organization that only exists to make a profit. Still, because you aren't simply messaging a friend, family member, or acquaintance from your own mobile phone, you need to seek people's permission before you message them. You should always have consent before texting someone.
There is a law, namely the Telephone Communications Protection Act, which states that your SMS message recipients must "opt in" to receive text messages. Don't worry, this applies primarily to marketing and/or promotional messaging. Text-Em-All's church texting service uses toll-free numbers to send text messages and explicit opt-ins are not required. However, if you do want to require opt-ins - we have that feature available for you.
Communicate important information
As you now know, text messaging is ideal for communicating all sorts of messages to your church's congregation and those that volunteer or work at it. But, you must make sure that you only send important information to those that have opted into receiving messages.
For example, information about upcoming events or special services will be useful to your congregation. That's good church text messaging etiquette, however, sending extracts of bible verses each day or demanding donations from people via SMS is bad etiquette.
Message the right groups of people
Did you know that you can broadcast SMS and MMS text messages to specific groups of people? For instance, you might have one group that you'd label as your congregation. Another might be employees and volunteers.
You may even wish to further segment those groups should you wish to communicate information about specific subjects. One example is creating a congregation group associated with organizing an upcoming event.
Send a welcome message to new members
It's good to welcome new members to your congregation. Doing so shows that you care about them and want them to enjoy being a part of your church. Sending a welcome message to new congregants is also a way to initiate conversations with them.
You might not realize it. But, the simple act of sending a welcome message to new members also enables you to learn more about them.
For example, some new members may wish to volunteer their time at your church, and they could offer that help when responding to your welcome text messages.
Reach out to your congregation personally
Sometimes, members of your church's congregation might want some one-on-one help and support. You can reach out to those members by asking questions and making yourself available to them.
Congregants might want all kinds of help and may not know who they could ask. They might have marriage troubles, or concerns about other life matters. Your personalized text messages can effectively provide a lifeline to those members.
Limit your messages to weekly or monthly frequencies
Lastly, you don't want to do annoy your congregation and others associated with your church by sending daily text messages. Instead, limit your communications to weekly or monthly broadcasts.
While it's an important "rule" in church text messaging etiquette, it also means you won't run out of things to tell people!
Plus, you can always invite people to contact you if they need your help and support. Only in those cases should you message people more frequently. In all other cases, keep your messages to a weekly or monthly frequency.