Chances are if you're reading this, you've been lied to about "unlimited text messaging." Some companies have been promising that you can send as many text messages as you need from a local, standard ten-digit phone number, like your business line or personal desk phone, for only a flat monthly fee.
Turns out, there's a few things they aren't telling you.
The phone carriers (hello, AT&T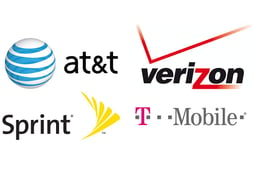 and Verizon!) are trying their best to save you from telemarketers and scammers that are sending spam messages. They're doing this by monitoring all text traffic when the message is sent from a local phone number and block those who send mass automated messages that exceed their limitations, no matter your carrier and no matter what your message says.
Okay, Jon... What are these limitations?
Glad you asked! While these limitations aren't documented anywhere official (they don't want scammers figuring out how to get around them), the general rule of thumb is that your local phone number will be blocked if you send:
More than 25 - 50 text messages at a time,
More than 100 text messages over the course of an hour, or
More than 500 text messages per day.
Violating any of these limitations can result in your texts being blocked and, get this, the carriers won't let you know that it's happened. You'll think all your texts are going through just fine but it turns out that nobody's receiving your information.
The question now becomes how can those who NEED to break these limitations do so without getting blocked? The solution is: Toll-free text messaging.
The carriers understand that there are businesses who have a legitimate need to text hundreds of individuals at the same time. Some examples include: available job positions, churches with large prayer chains, and, most importantly, emergency messages. To help these people, the carriers instituted text messaging from toll-free 1-800 numbers. When you send out a toll-free text, you're doing it the proper way with a much lower likelihood of being blocked.
**This is important: if the carriers think you are spamming with a toll-free phone number, you will still get blocked, so please be responsible with your message content**
Due to these texting limitations, you can see that those companies promising "unlimited" mass texting with a local phone number, while aren't being malicious, are misleading you. That's why those companies don't let you text a group with more than 50 people at a time; they know you can't abuse them because the service itself is inherently limited.
At Call-Em-All, we support both local and toll-free texting. When you work with us, you choose if you need local number texting, toll-free texting, or both. Our service will adapt to your needs.
When it comes down to it, you have two options when it comes to paying for text messaging:
Have questions? No problem. Our friendly Customer Experience team is here to support you 24/7.
We can be reached at info@call-em-all.com or (877) 226-3080.
We can't wait to hear from you!