Non-profit texting has proven to be one of the most effective ways to motivate and communicate with volunteers, supporters, and beneficiaries. With a spam rate of less than 3% and an open rate close to 99%, it's not surprising non-profit organizations use mass texting extensively. This brings us to text messaging guidelines for a nonprofit to maintain trust with supporters. Trust in a non-profit organization is vital to sustaining goodwill and engagement.
Following a simple SMS protocol, non-profits can effectively send mass texting messages and expect responses from nearly 83% of a highly targeted audience. The good news is that nonprofit texting works equally well when sent via mobile phones as well as automated systems over the internet. Content posted in a text message is important, and by using the right methods, non-profits set the tone for sustaining long-term relationships with every group of people connected with their organization.
How To Succeed With SMS For Non-Profits
Use SMS Surveys
SMS surveys are a great way for nonprofit organizations to initiate outreach with donors and supporters. This is usually the first step to establish closer communication with people to engage them better and encourage participation in programs.
Valuable data and insights from these surveys also allow organizations to segment people based on their preferences. This is a non-intrusive method of sending SMS messages which is part of a communication strategy that is consent-based and follows all the rules.
Initiate Community Efforts
With an average response time of 30 minutes, mass texting has proven to be the fastest way to kickstart community efforts and alert supporters to emergencies.
Many people respond negatively to unsolicited visits and calls and consider text messaging as an ideal way to communicate without being disturbed with phone calls during busy hours. They can open their messages in their free time and are in the right frame of mind to respond to appeals for services or other community help.
Revitalize Events
Some nonprofit organizations still rely on traditional ways of communication such as door-to-door visits and email newsletters to promote events with limited effectiveness.
Mass texting that provides useful information and links about upcoming events is one way to boost attendance rates. A one-to-one SMS from a known volunteer can add a personal touch and encourage volunteers, supporters, and donors to attend events.
Texting is also a great way to send reminders and follow-up with event details like the address of the event venue, directions, and event highlights.
Send Updates
You can have a short code number that people can text to subscribe to updates from your organization. It's also a great way for you to recognize your contributors regularly with a simple "Thank You" for the support they have shown for your community events and initiatives.
People may also be very interested in knowing the impact their contribution has created. Provide details of community initiatives to motivate people to continue supporting your cause.
A practical way of dealing with a large number of people is to segment them into different groups based on donor interest and other factors that dictate how the nonprofit texting platform functions. You can then send customized text messages to different groups of people to match their level of participation.
Gain Volunteer Support
Volunteers perform individual tasks but collectively help nonprofit organizations function like well-oiled machines. They are also familiar faces that beneficiaries recognize and feel comfortable while interacting with them.
You can use mass texting platforms to send text messages to volunteers when you are in need of them for new initiatives. Effective mass texting helps rally field volunteers who deal with crisis-management issues and emergencies.
Keep Constant Touch With Volunteers
In times of emergencies, you can send multiple text messages to volunteers to provide regular updates and coordinate collective action. You can also set up a system to receive SMS call-to-action responses from volunteers when they text back a short code based on keywords assigned for the event. This is a way for them to acknowledge your messages and keep the organization informed on volunteers that are mobilized.
Follow Social Norms And Guidelines
Ultimately, text messaging is a personalized method of communication so nonprofits should follow all social norms and guidelines. This increases the effectiveness of mass texting as a way to build strong connections and engagement with your beneficiaries, volunteers, and supporters.
What To Consider When Mass Texting For Non-Profits?
A nonprofit organization should follow established rules that govern mass texting campaigns.
Recipients must be aware of program details, content, and the frequency with which they will receive messages from the organization.
Make sure that the content of your messaging is compliant with guidelines specific to nonprofits. For example, nonprofit organizations may have more relaxed guidelines around mass texting for certain activities in some countries, but any promotion of products and services may not be allowed under these relaxed guidelines as they can be considered as telemarketing.
Send text messages only to recipients with phone numbers that have willingly opted in to receive text messages. Ensure that all changes you make to existing campaigns and new campaigns that you initiate are in compliance with legal guidelines.
Ensure that you provide recipients with the option to withdraw from your texting service in a way that complies with all stipulated rules.
Use mass texting as a way to send follow-up content and details to users who opted in to receive more updates.
Maintain a privacy policy that is available on your website for the public to review.
What Is Proper SMS Etiquette For Non-Profits?
Here are some simple guidelines used in text messaging for nonprofits.
Keep your text messaging short and have a clear call to action at the end of the SMS. You can use a simple short code that is easy for your supporters and volunteers to remember so that they can subscribe easily. It must be relevant to a specific campaign and must contain words that are appealing to people who would be interested in your content. That way, people can relate better to your content and you can segment your subscribers better by ensuring new subscribers are added to lists broken down by interest and location.
Use common font types and colors to send text messages to increase engagement. If you opt to use uncommon colors and font types in your texts, recipients may receive your text messaging in varying colors which can look very different from the design you intended. If you want to get creative, save it for email newsletters. SMS texts should be short, simple, and to the point.
Send complete texts that will not be misinterpreted. If the content does not convey the intended meaning, that can lead to a fall in engagement rates. If you need to provide more details, include links to web pages that can provide more information. You can also include links for recipients to fill out a form if they need to submit their contact details when volunteering for an event.
Communicate in a polite, friendly language. Use customized "Thank You" notifications to thank people who have supported the organization's initiatives and events. The text message must elicit a powerful emotional response and you can relate personalized stories of how a person's contribution helped bring relief to beneficiaries. The idea is to establish a permanent, long-lasting emotional connection between the subscriber and nonprofit organization.
Customized content goes a long way in engaging your subscribers. A person that opts in to receive content from the organization has already shown interest. Segment your subscribers so that you can send more targeted texts that strengthen the emotional connection between the organization and the subscribers. Texting is a more personal form of communication so while mass texts that aren't relevant to the subscriber can be easily dismissed as spam, SMS texts that the subscriber can relate to will be well-received and people can connect better with your messaging.
Always send texts during working hours. You can analyze how different segments of users respond to SMS texts sent at different times during the day to find out the best timings. Sending texts during working hours establishes the nonprofit organization as a professional entity that is respectful of their subscribers' time.
What Should You Not Do When Mass Texting?
Forget Identification Elements Like Logos
When recipients receive messages from nonprofit organizations, they must be able to immediately identify the text with the organization. Failing to identify the context of an SMS may lead to inaction on their part making the campaign less effective.
It's important to establish brand awareness at every step of the text campaign. If your subscriber starts to make positive associations with your logo, they will read more of your SMS texts, take action, and increase interaction with your organization through other channels.
Use Emojis And Slang Without Discretion
If slang and emojis are used without discretion, they lead to communication gaps. Typically, a maximum of 160 words is allowed in a single SMS. However, most modern mobile phones allow users to send messages up to a maximum of 1600 characters while concatenating and rebuilding them as necessary. This means many organizations may use slang to express their meaning in a limited number of words, but people respond differently to slang. Ideally, your text messages should use simple language with a powerful call to action that can be understood by people of all ages.
Slang also extends to the unnecessary use of abbreviations and capitalized text. Avoid using slang that creates confusion and makes your organization look unprofessional, and stick to clear language and spelling that everyone can understand.
Bending Rules Governing Text Messaging For Non-Profits
Data privacy is an important element of any message. Text messaging rules in your home country may not apply in other countries. Instead of trying to bend the rules of standard SMS, get familiar with international SMS regulations, and employ best practices.
For example, the most common rule is to provide an easy way for a subscriber to opt-in and opt-out of your mass texting list. Send only the required number of messages planned for a campaign and some countries may impose restrictions on the frequency of messaging. People lose interest in nonprofits that tend to spam them with content and updates about unrelated topics. In the long run, sending spam messages is going to cost the nonprofit its goodwill and brand reputation.
Scheduling Errors
Timing is everything when it comes to communicating with subscribers. For example, an SMS sent in the early morning may wake people up when they are not prepared to receive messages. Proper scheduling ensures they receive content during normal office hours.
If an event is scheduled for the weekend, you may have a series of communications to remind the recipient and provide complete details about the event. You should send the first message immediately after the recipient opts in as that is when he or she is most open to receiving your content.
If you schedule an appointment, give your subscriber at least a day's notice. Send the first message around 24 hours before the appointment and you can send a follow-up is then sent an hour or so before the appointment. Consider time zone differences before contacting subscribers located internationally.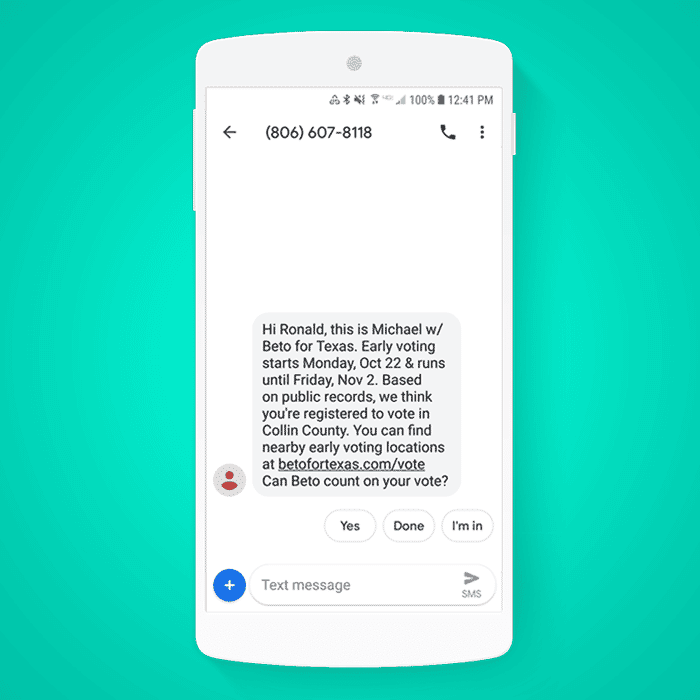 The Power Of Non-Profit Mass Texting
Nonprofit mass texting is one of the best ways to automate campaigns and engage volunteers, supporters, and beneficiaries on a more personal level. People can connect with organizations better and if proper texting guidelines are followed, they will also respond faster to text messages compared to other channels such as emails and private messaging on social media platforms.
Given that the number of words in a text is limited, keep it short and simple. Add links to websites or forms to supplement more information, and you can send SMS texts together with emails and social media posts for an integrated campaign.
Related Categories
Ron Kinkade is the Head of Marketing at Text-Em-All, an automated calling and mass texting company that provides solutions for small and medium-sized businesses, large corporations, membership organizations, community groups, and individuals. Ron has more than 20 years of experience with a proven track record of success. Ron enjoys bass fishing, beach vacations, and spending time with family.