When you're trying to find the right person to fill a job, you already know how great it feels when everything comes together. Unfortunately, when you use traditional recruitment methods, finding that one individual who seems perfect for a position can take a lot of time, effort, and resources.
Let's cover a few of the pros and cons of text message recruiting, so you can determine if it's the right fit for your talent acquisition efforts.
On average, it costs a business over $4,000 to hire a new employee. Part of that cost is due to recruitment effort, including job postings on various websites. While that can be an important tool to use, you could be honing in your efforts and directly contacting your best candidates by using text messaging.
If you work in recruitment, the process of finding someone for a job is often a lengthy one. But, using SMS in your recruitment efforts can make it easier when you're doing it the right way.
What Are the Advantages of Texting for Recruitment?
You undoubtedly have a variety of different channels you already use for recruitment, including email, social media, and the good, old-fashioned phone call. So, why bother with texting? Is it more beneficial or easy to use? Mass texts can help to make recruiters' lives easier with the following advantages.
There is a Higher Response Rate
A whopping 81% of Americans own a smartphone. The average person spends over 5 hours on their phone each day. So, when you send a text message, it's more likely to get viewed quickly, over something like an email or a post on social media.
Text messages almost always get read. In fact, studies have shown that less than 2% of them go unread, which is so much less than the open or click-through rate of most emails. Even if your text message doesn't get a response, you can know that most people you're sending it to will, at the very least, see it.
SMS is great for ensuring your contacts get the information they need, too. You won't have to worry about it going to a 'SPAM' folder and being lost. Instead, the information is being sent, almost literally, to the palm of a person's hand.
It's a Faster Process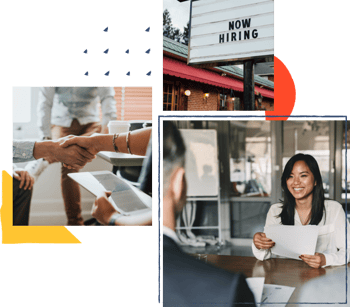 As a recruiter, you probably already understand how long and tedious the hiring process can sometimes be. Texting tends to speed it up because people are more willing to reply to text messages right away. One of the great things about Text-em-all's texting service is that once someone responds to your message, it turns into a private conversation.
As a result, you can start to communicate one-on-one with the people who are interested in your position and streamline the process.
It is a Cost-Effective Option
We stated earlier how expensive it can be to hire a new employee, and how simply posting a job can cost time and money.
Our service is just 5-9 cents per message, or you can choose a subscription to send as many messages as you would like. If you break down the cost, as well as the ROI, SMS recruiting is actually an incredibly cost-effective method that can find the right people faster.
Texting Feels More Personal
Now, more than ever, people are craving connection and relationships with businesses. That's true when it comes to marketing strategies for businesses to consumers. But, it's also true when it comes to recruitment efforts.
Text recruitment both humanizes and personalizes the process. Think about the text messages you receive on a daily basis. Chances are, most of them are from family and friends. Because of that, texting is more often viewed as a personal form of communication, and you can capitalize on that.
Texting allows you to relay a lot of information in a short format. So, combining a personal-yet-professional tone in your messages can make them more enticing for people to respond to. You can even use customized templates that let the recipient know who you are from the very start, so they can feel a sense of comfort in both reading and replying.
What Are the Disadvantages?
Even though there are many advantages to texting for recruitment, no platform is perfect. Some people believe that text messaging is too impersonal for recruiting efforts, or even that it can be too invasive.
We're not including those issues in this "con" list, because they are problems that can easily be solved if you follow certain guidelines and best practices for your messaging efforts. You control how and when you send your messages.
But, there are some potential drawbacks that should be considered if you're thinking about using SMS recruitment.
Choosing The Wrong Tool May Limit Your Success
Text-Em-All has been partnering with staffing firms since we opened for business in 2005. Our founders worked with staffing companies long before that also. We like to think we have a pretty good understanding when it comes to the needs of staffing firms. Over 95% of reviewers on G2 Crowd ranked us as the #1 tool for achieving the best results. This is exactly why choosing the wrong tool can limit your success.
Prioritizing your own needs is the first step to making sure you identify the right solution for your firm. Here are a few questions you need to ask.
Do you need to contact many candidates at once, or just individuals?
How many of your candidates prefer communication by phone?
How fast do you need to get your messages out?
Do you need customization? If so, build it with a partner - not a salesperson.
Your Messages Could Be Misinterpreted
One of the great things about texting is that it allows you to be concise with your messages. But, if you have a lot of information to give and only a limited number of characters to give it, some messages might be confusing.
Writing effective text messages takes skill. It's important to make sure you're sending the right information with the right tone every time you push a message out to potential recruits.
In addition to potential misinterpretations, not everything can (or should) be sent via text. There are some things that will always need to be communicated over other channels, like email. For example, you should never share confidential information in a text. If you start a one-on-one conversation with someone via text messaging, you both will likely benefit from eventually switching over to an email or phone conversation, so you can talk more freely without character or tone limitations.
You Can Get Overwhelmed With Replies
Another advantage of texting is that it is a much faster process. But, if you're sending out a message to 100+ people about a job, you could, potentially, get 100+ replies. While that might seem like a good thing, it's important to consider that people view text communication differently than email.
Simply put, most people expect a reply to a text message quickly. An email can easily sit in your inbox for a day or two before you have to worry about a reply. But, because people are so used to text message conversations and the quick back-and-forth that goes with them, they may expect a reply from you right away.
When you have multiple people to respond to, that can easily get overwhelming and even stressful. But, not responding right away could make your recruits frustrated, or give them the idea that you aren't as professional as you seem.
There is a Learning Curve
When you work in talent acquisition, you have to be able to utilize different tools and resources for recruitment. Using a text messaging platform like Text-em-all is another tool you'll have to learn. While it isn't difficult, it's important to be in the right kind of growth mindset before you introduce another recruitment tool.
It's not just about learning how to use a different kind of software. It's about being able to manage it. Remember, you could be inundated with replies after sending out a message about a job. It's important that you're willing to dedicate yourself to replying and putting in all of the extra work that is associated with a new tool.
If you don't have an open mind about using a new product, you likely aren't going to take advantage of its features, and you could be missing out on some wonderful potential recruits.
Is Text Recruiting Better Than Other Strategies?
There are certain recruitment tools that will always be necessary. SMS isn't trying to take those tools away or replace them. Rather, it should be used as a supplemental way to get information to people quickly, and to start a conversation.
If you do a lot of mass recruiting, you will still want to use platforms like:
Email
Job posting boards
Social media
Job fairs
But, mass texting can be a part of that process. In many cases, you can view it as a sort of "teaser" for a job posting, so you can see who is really interested before you end up investing so much time and money promoting the job in other ways.
With Text-em-all's mass texting software, you can do so much more than just recruit potential new hires. You can use it in other ways to make your daily HR tasks easier, including requesting missing time sheets from employees, confirming schedules, or delivering important announcements.
Adding a personal touch to the way you mass recruit potential employees can help you to tap into a new audience. Don't be afraid to be more relaxed and communicative in the way you recruit. You might find that people are more responsive and more comfortable when they get back to you. As a result, you can start positive, effective conversations with interested candidates, until you find the perfect person for the job without all of the traditional hassle and expense.
How To Use Text Recruiting To Hire
Most people today are on their phones for much of the day. Some estimates put the number of times a phone is used at almost 50 a day, and the number jumps to almost 90 for younger users such as Gen Zers. But what was once thought of as a no-go for businesses -- reaching people on their personal cell phones -- is now becoming commonplace because it is, after all, where everyone is spending their time.
In fact, savvy marketers have been opening the floodgates to text-based communication for years, and many consumers today would actually prefer to be contacted or to interact with a company via text rather than a cumbersome phone call that requires two people to be available at the same time. That's great because text recruiting is a lot easier to scale than making all those phone calls or reaching out on social media where people may not even look at their messages.
Engagement rates of text recruiting can also be stunningly high as texts have a 98 percent read rate with nine out of 10 being looked at within seconds of receipt. Some companies have also reported up to a 50 percent reply rate with text message recruiting, making it one of the most successful recruiting methods available to companies today.
Here are some tips to help ensure that your text recruiting is successful.
Leverage Text Recruiting for Former Applicants
Most companies likely have a long list of former job applicants that may not have been right for the position at the time. With any luck, you could have hundreds or thousands of applicants that have all picked up skills and buffed their work history in the meantime. By reaching back out with text recruiting, you'll be able to bring them back into the fold and have a quick conversation to see if they would be a good fit for your needs today.
Use Text Recruiting To Reach Out To Former Employees
For anyone that has since moved on from your company, text recruiting software can easily enable you to get back in touch and see if they would be interested in a new opportunity. You already employed them before, so it's easy to see how they could be a great fit, and many will jump at the chance to catch up and talk shop with their former coworkers or superiors.
Build New Relationships With Text Recruiting
Before reaching out or jumping on the phone, text recruiting enables you to build relationships with newer candidates so that you can get to know them better. That can help save time when it comes to the interview process, and it also gives you an excuse to touch base if you're looking to bring more people in during that next recruiting event or to share stories of your happy employees, increasing interest in and helping motivate candidates to look at your company in a new light.
Don't Try To Do It Manually
While it's physically possible to engage in text message recruiting from a business or personal cell phone, you'll quickly become overwhelmed with all those replies and discussions. If you're doing it right, you'll want to put the feelers out to dozens, if not hundreds or thousands, and it's just not possible to manage all that on your own. You'll need a bonafide text recruitment platform to pick up the slack, and the best part is that you'll have a convenient dashboard to manage messages and replies.