Keep people informed when it matters most

Send personalized, informational, and emergency text messages (and calls) fast -- whether they're going to five people or 50,000. We loathe spam and don't allow political, fundraising, sales, or promotional/marketing messages.

No credit card required. No pushy sales.
We help organizations (big & small) deliver important messages





Good uses for mass texting
We believe strongly in only delivering messages that people need or want. If you want to send political, marketing, or promotional messages, you're going to have to find another service—we don't allow it. Here are some great ways to use our mass texting service and our automated calling system.
Our service is designed for all types of organizations, from small churches and businesses reaching small groups - to large corporations sending hundreds of thousands of messages.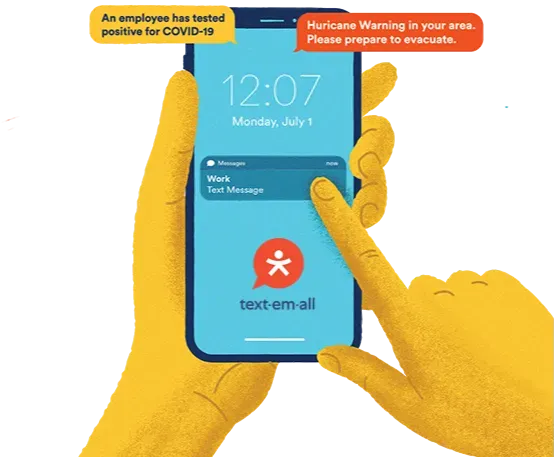 The ultimate guide to becoming a verified sender
Wireless carriers are taking aggressive actions in the fight against spam by mandating that all message senders must register their brand and campaigns. Updated guidelines have been introduced for local numbers, or 10DLC (10-digit long codes), and toll-free numbers. Read below to see how Text-Em-All is keeping registration simple and free for our customers.
Some of the organizations we serve
A better way to communicate with your group

Reach large groups of
contacts quickly.
Our mass texting service and automated calling system reaches your contacts quickly.

Understand the results of
your messages.
See exactly who answered, who received a voicemail, and whose numbers aren't working anymore.

Don't worry about
hidden fees.
Simple pricing. Pay-as-you-go or monthly. No setup fees. No contracts. Cancel anytime.