Keep people informed when it matters most
Clients big and small rely on Text-Em-All to deliver millions of messages each month




Good uses for mass texting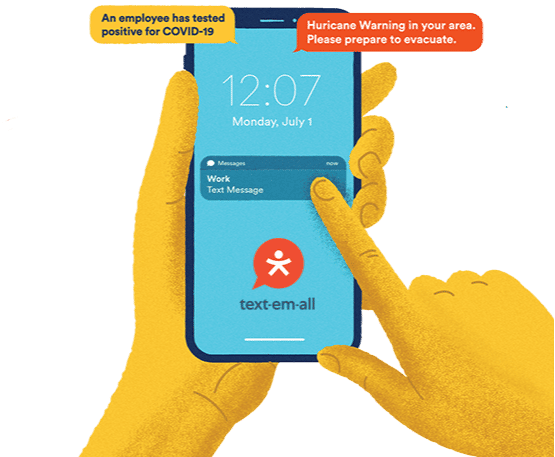 We believe strongly in only delivering messages that people need or want. If you want to send political, marketing, or promotional messages, you're going to have to find another service—we don't allow it. Here are some great ways to use our mass texting service and our automated calling system.
Our service is designed for all types of organizations, from small churches and businesses reaching small groups - to large corporations sending hundreds of thousands of messages.
Reminders
Meetings, events, payments, appointments --- texting is the most effective way to reach people.
Employee updates
Update employees with important announcements, benefits re-enrollment, or schedule changes.
Emergency notifications
Keep people informed when severe weather or other emergencies will impact them.
Job openings
Respond to candidates who have applied to open positions, or shown interest in working for your company.
Fill open shifts
Quickly reach employees and see who is available to fill an open spot in your schedule.
Surveys
Texting is an easy way to survey customers, gather results, and respond to your contacts.
Announcements
Let your contacts know about upcoming events, important dates, and special occasions.
Healthcare notifications
Vaccination reminders, flu shot clinics, COVID case notifications --- keep contacts updated.
Prayer requests
Update your church phone tree and quickly deliver prayer requests and other messages to your congregation.
Some of the organizations we serve
Churches
It's never been easier for churches to reach members.
Businesses
Features built with business texting in mind.
A better way to communicate with your group
Reach large groups of contacts quickly.
Understand the results of your messages.
See exactly who answered, who received a voicemail, and whose numbers aren't working anymore.
Don't worry about hidden fees.
Simple pricing. Pay-as-you-go or monthly. No setup fees. No contracts. Cancel anytime.
Texting or calling, we have you covered.
Our easy-to-use service gives you the tools to send important messages fast, no matter how many people you need to contact.
Mass Text Messaging
Automatically detect mobile numbers
Schedule messages in advance
Manage replies and carry on conversations
Text from your business number (even landlines)
Access templates and personalize texts
Automated Calling
Schedule messages in advance
Adjust call speed to regulate reply volume
Save recorded messages for future use
Leave voicemails if contacts don't answer
Let contacts easily connect to a live person
Affordable, no-hidden-fee pricing
Pay-as-you-go
5¢-9¢
per message
Price dependent on how many message credits you purchase. One credit is good for one 30-second call or 160-character SMS.
Monthly subscription
starting at
$7.50
per month
Price varies based on how many unique phone numbers you contact each month. Message your contacts as much as you like.