While not quite as unprecedented as 2020, 2021 saw the novel continuation of the COVID-19 pandemic. However, this year offered a welcome addition - hope. Organizations around the world turned to mass messaging to fill job openings, remind patients of vaccine appointments, and keep people safe in severe-weather situations.
Before we jump into which topics rose to the top in 2021, let's take a look at how customers of Text-Em-All preferred to send messages this year. At Text-Em-All, we offer three different types of message delivery - text, voice and combo, which sends both a text and voice broadcast simultaneously. This year the breakdown of messages was as follows;
42% text
17% voice
41% combo
We saw a significant increase in the amount of our customers using combo this year, as the category rose 13%. Combo broadcasts have an incredibly broad reach since by targeting both platforms organizations can reach both landlines and mobile phones.
Methodology
To determine messaging topics for the year, we looked at the broadcast name of messages sent by our users and queried for keywords specific to the topic. We then counted the number of messages sent and compared them to data from the previous year.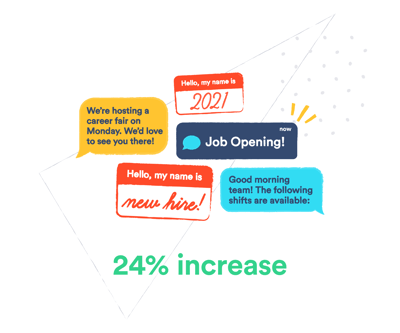 #1 Staffing/Hiring
Messaging related to staffing and hiring is back on top this year, with a 24% increase over last year and more than 46 million messages sent. Part of this is driven by the fact that throughout the entirety of 2021, the United States saw job openings increase, with November job openings closing out the year at an incredible 10.6 million jobs.
As businesses work on recovering from pandemic-related layoffs and resignations, the staffing industry is booming. In other positive news, the unemployment rate sank to 3.9% in December 2021, which is the lowest it has been post-pandemic.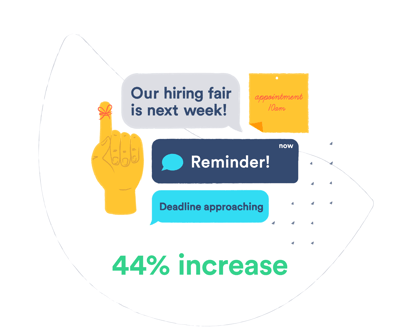 #2 Reminders
Mass messaging is one of the best ways to ensure your contacts will receive your message in a timely manner, which is why the platform is so well-suited for reminders.
In 2021, we saw a 44% increase in reminders sent, with reminder use cases likely varying between payments, appointments, events, and more.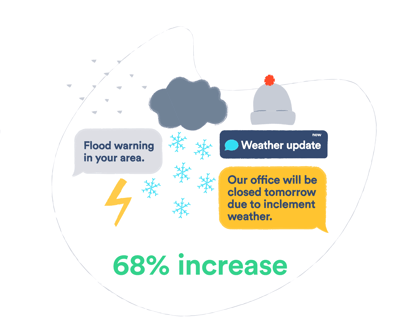 #3 Weather
2021 was a remarkable year for weather. February's cold-wave that swept through the Plains left nearly 10 million people without power and millions without water, while a December derecho soaked the Upper Midwest. In addition, hurricanes and tornadoes devastated states such as Louisiana, Kentucky, and New York.
In a year where severe weather put safety at stake, people turned to mass messaging to get emergency information out quickly. At Text-Em-All, we saw a 68% increase in weather-related messages being sent from our platform.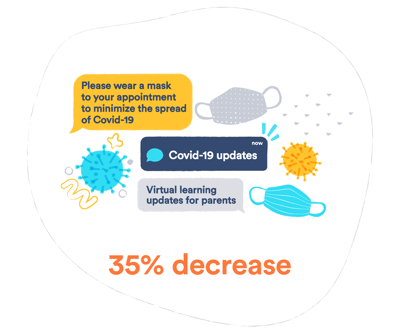 #4 Virus/Flu
Although the COVID-19 vaccine rollout began in December 2020, variants swept the world throughout 2021, continuing the need for virus alerts.
With that being said, we're pretty glad to see a decrease in this category, with 35% less messages regarding viruses being sent out in 2021.
#5 Prayer
As we closed out year 2 of the pandemic, people turned to prayer just as much as they did the year before.
This category had a very small 3% decrease this year.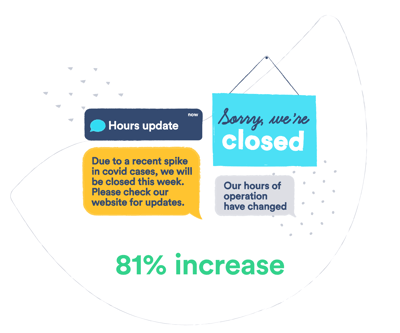 #6 Closings
With the peak of the original COVID variant ringing in the new year, the Delta variant taking hold in the middle of the year, and Omicron closing out 2021, it's no surprise that we saw an 81% increase in messages about closings.
We hope to see this category decrease in the new year.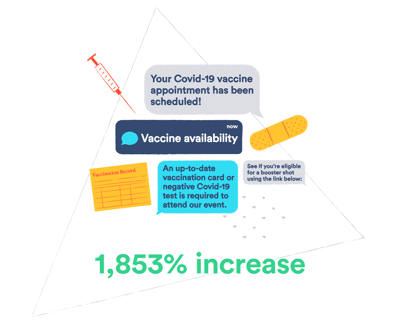 #7 Vaccine
2021 was undoubtedly the year of the vaccine, with a 1,853% increase in messages sent in regard to vaccination.
These types of messages likely included vaccination appointment reminders, openings, closings and encouragement to get vaccinated.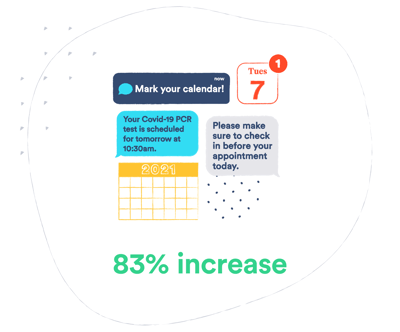 #8 Appointments
On a similar note, we saw an increase of 83% in the number of messages related to appointments.
These appointment messages likely included information regarding testing and vaccination appointments.
#9 Surveys
Surveys are often used to collect information about health status, attendance, and feedback from employees, congregants, and students or parents.
This category held pretty stable this year, with only a 9% increase in the amount of surveys sent.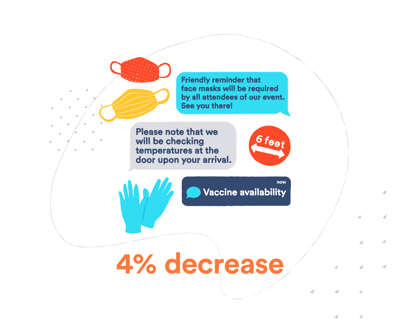 #10 Health/Safety
The ongoing COVID-19 pandemic most likely contributed to the steady stream of health and safety messages.
Messages ranging from mask reminders to vaccine availability continued to fly as the pandemic raged on.
This category only saw a 4% decrease this year over last year.
#11 Zoom
Many offices and schools returned to in-person learning and working in 2021, driving a 30% decrease in the amount of messages sent in this category.
We expect and hope to see a decrease in this category in the next year as the pandemic comes to a close.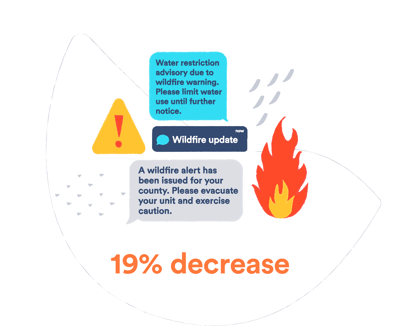 #12 Wildfires
While there was technically an increase in the amount of wildfires in 2021, only 6.6 million acres were burned this year, in comparison with 2020's 8.9 million.
Overall, we saw a 19% decrease in this category.
Related Categories
Kaitlyn Orred is the Digital Marketing Specialist at Text-Em-All, a mass texting and automated calling company that provides solutions for small and medium sized businesses, large corporations, membership organizations, community groups, and individuals. She has 7 years of experience in content creation, and you can catch her practicing yoga, curling up with a great book, or hiking with her Mini Aussie, Koda.