Talking to your customers is the most important part of any business. You need to ensure they are happy with your services and listen to what they have to say, as well as providing customer support. With so many accessible tools and social media platforms, it has never been easier to have a direct line of communication with your customers. Asking them for feedback, notifying them about updates to your product or service, and responding to sales inquiries.
But with smartphones shortening everyone's attention span how can you even be sure your customers take note of your company communications? Is it possible to stand out from the noise in an era of information overload?
Just 20% of emails communicating information to consumers are ever opened. With inboxes often automatically filtering messages from businesses into promotion folders, it has become even harder to command the attention of your customer. Many companies reach their customers directly through other channels and one of the most successful ways of directly communicating with your customer is via business text messaging.
According to Leftronic, nearly 70% of the world's population has a mobile device, that's 5.13 billion people. Whereas just 50% of people worldwide use email. Communicating directly to the device people generally have at arm's length is a great way to have conversations with the people who use your business. It's believed that 90% of text messages are read versus just 20% of emails. SMS text messaging gives you a much better opportunity to get important information into the hands of your customer.
Consumer research suggests that millennials would much rather engage with a business via text message than by email or phone call. Text messaging is convenient and customers can choose when they engage and reply, unlike a phone call where they have to be available at the time of the call. With a business text messaging no budget is wasted on hiring call operators and time is not lost on missed calls.
This article will go deeper into the ins and outs of business text messaging; how it's done and the etiquette around running a text messaging service for your business.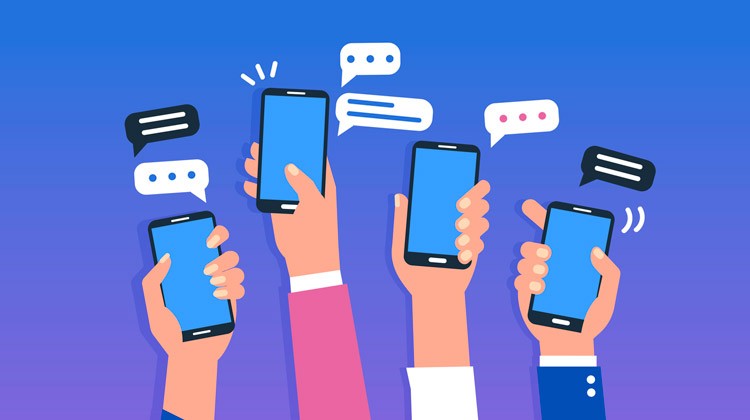 What is a business text?
A text messaging service for business is a platform that enables businesses to communicate directly with their customers via SMS messaging. Businesses can use mass texting services to send out important network updates and community alerts, send appointment reminders, delivery statuses, as well as opening a two-way dialogue with their clients. Business text messaging can also be used for customer service and to enhance customer satisfaction.
Business text messaging can be used to automate text messages and send out mass text messages to clients. It is also an effective channel to quickly solve customer issues and to send personalized texts to provide important information.
Some of the benefits of using business text messaging include:
saving time
getting customer reviews quickly and easily
improved communications between your customer and customer support team
ability to notify people of information at short notice
easy two-way communication
automation of communications
How does a business send out mass texts?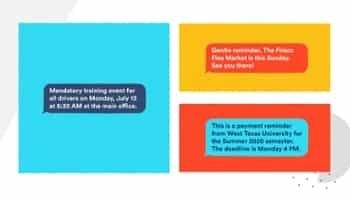 There are numerous platforms providing text messaging services for businesses and it is very easy to get started (many even offer a free trial period). The online platform will usually give you the option to decide what type of business text message you want to send, then import contacts' phone numbers to the system. The business text messaging service can help with contact management and will automatically filter out phone numbers that can't receive text messages.
The next step is to write the message via the business texting platform you are using. Messages can be personalized with fields for names and notes such as appointment times. You are then able to review the text message before selecting the send out time and date. Text messaging platforms even enable you to add photos and relevant graphics to your text. After the texts have been sent out to customers, team members can respond to direct replies via the SMS text messaging platform.
Business text messaging platforms are also able to help your business with auto-reply options, as well as contact management. They also provide analytics so you can keep track of the data on open and response rates from your customers. The platforms are easy to use and you can upload all the information required to send out a text in a matter of minutes.
Is texting acceptable in business?
As already mentioned, there are multiple ways to conduct your business operations in the digital age. However, you may question whether organizations should be using text messaging as a way to communicate with customers. Could it be seen as intrusive or too personal?
The key to answering this question is by looking at the reasons text messaging is being used by businesses. If you are using a text messaging service for your business which is providing clients with the information they actually want and need, it is a valuable method of communication. Notable examples of this are; sending reminders for appointments, interview reminders, or details of a shipped item. Another useful way of making use of business texting is for providing customer support.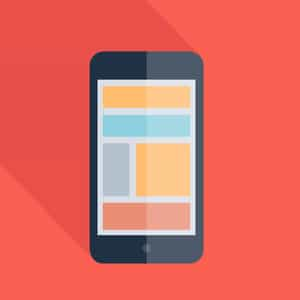 Where things start to get problematic with business texting is when companies use a text messaging service to SPAM their customer, for SMS marketing or cold sales. There is also etiquette for where a business acquires the phone numbers on their contact list. You should not be buying phone numbers, and should only ever be messaging customers who have given their permission to be contacted by text messaging. This doesn't just mean they have voluntarily given you their number but have explicitly opted into being contacted.
We've all been on the receiving end of unwanted messages from businesses self-promoting, soliciting sales, promoting political agendas, or asking for charitable donations. This is not an effective use of business texting and often leaves people feeling harassed and hostile to your outreach. There are very specific rules surrounding mass text messaging and SMS marketing which you can read about here.
Make sure your customers are happy to be contacted by your business, and that you are using a texting service for business which makes it easy for them to opt-out from your communications should they wish to. Further to this, be respectful with regards to the time you schedule your text messages to reach your customer. This is especially important if you are sending messages across different time zones.
Another use of texting for business can be between team members. This is very different from mass text messaging your customers, however, can be a useful way of speedy communication. Again, boundaries need to be respected here and employees should have the opportunity to opt-out of being contacted via text if they want to. A great example of the successful use of business text messaging is for employment agencies. They can easily update their contractors about the availability of work as well as sending reminders about submitting timesheets for Payroll.
How do I type a text message?
Using business texting is very different from writing a personal text message on your phone. Usually, when you are using text messaging services for your business, you will be writing your message via the platform on a desktop rather than a mobile phone. There are often options for the way you write your message, the most common are:
writing the message yourself
using pre-designed message templates from a business texting platform
Once you have decided which type of message you want to send, you need to choose whether or not you will personalize specific fields of the message such as the name and notes you want to send. Business texting services make it very easy to get started with this if you have never done it before. Customization features will be integrated into the platform and easy to use. You will be able to paste the name and phone number for each of your customers from your clipboard or import an excel sheet with all the relevant information.
With just a few simple steps your message will be ready to send out.
Things to keep in mind when writing your business text messages:
make it clear who the message is from
ensure you have a legitimate reason for sending the text
the information is clear and easy to interpret
if there is a call to action, it is clearly stated
you aren't being too informal
the message doesn't come across as spam or a sales pitch
don't use abbreviations
there are no typos
you give a clear way to contact customer support (an email address or phone number )
you don't send the same message multiple times across multiple platforms
customers have an option to opt-out from receiving your texts
if sending personalized messages, the information is all correct
How to get a text number for business
To get started with professionally using business SMS messaging, you will need a business number. There are two options for choosing a number for your business:
A Short Code
This is a 4 to 9 digit phone number which you can use to manage text messaging at scale for your business. To get a shortcode for your business you will need to use an SMS aggregator or provider who can set the code up for you. Shortcodes are most commonly used to send:
shipping status updates
reminders
SMS marketing messages
Having a short code number can be expensive depending on how many messages businesses are sending and the data rates of your network provider. Texts sent via a shortcode are most commonly mass texts or bulk messages.
A Long Code
A standard 10 digit number, a long code, is more likely to be used to send text messages where a two-way conversation is necessary. For example, text messages directly to customers from customer support. The disadvantage of a long code is that fewer people can be reached at once and there are limits on how many messages can be sent in a day.
To assess the type of number which will work best for your business and it needs you should work with a business texting provider who will be able to assess your requirements and give you expert advice.
What is the difference between mass texting and group texting?
Mass texting is when you send a message to thousands of recipients at a time. Group texting is when you send text messages to a smaller group of contacts. The key difference is, that with group messages, everyone in the group can reply and often see the contact details of others in the group as well.
You can learn more about how to send a mass text here. Mass texts are generally a more effective way for businesses to communicate with their customers as well as a way to manage responses.
How to use business texting for customer service
Using text messaging can be an efficient way to handle customer service. First off, it saves time. If you use a generic customer care email address for customers' queries and complaints, it can take a long time for employees to go through the individual messages. The back and forth between customer service representatives and customers can be time-consuming, thus prolonging any problem.
With text messages, customers can have direct contact with an agent and get their inquiry or issue dealt with faster. This will in turn give customers a better experience of dealing with your company and lead to more positive reviews as well as repeat business.
Text messaging is also an effective way to build rapport with your customers and manage the relationship. It is a way to help customers feel more personally connected to your business and dealing with issues over text effectively can be a way to gain customer trust.
You can use a business messaging platform to set up your customer service texting. Once you create your account, it will be simple to set up, schedule messages, manage notifications, and communicate effectively with your customers.
Other uses for business text messaging
Although customer service is one of the most common uses for business texting, there are plenty of other ways to effectively use a texting service for your business. Some examples are:
SMS Surveys
If you want to conduct some research for a new product or service, or simply get feedback on how your business is currently performing, speaking with the stakeholders in your business is of utmost importance. One of the most successful ways to gain feedback is by asking your customers to complete a survey. This can easily be done through text. If you make the text survey simple and quick to complete, the probability customers will complete surveys by text rather than email is much higher. According to research, 31% of consumers reply to surveys within 5 minutes of receiving them.
Customer reviews
Positive reviews are crucial for any business, especially when it comes to sales and attracting new customers. Only a small percentage of customers leave reviews and encouraging them to review you can be time-consuming and challenging. Asking for review via email is much less effective than asking for reviews by text messages.
Auto-replies
Some questions and inquiries don't require a personalized response. For dealing with these types of messages, you can set up auto-replies through your SMS software. If you have a number on your website that clients can send a text to it can be an effective way to manage incoming communications from prospects.
Is business texting right for you?
When considering text messaging for your company, you should think about the type of communication you currently have with your customer. Pay attention to the current engagement rate you have with your email communications or phone calls.
Who is your customer? The effectiveness of communication by text depends largely on the demographic of your clients.
Assess the workflows and systems you currently have in place for your customer service efforts. Could these be managed more effectively and time efficiently by text message?
Finally, consider why you want to reach your customers by text. Is it for self-promotion or is it to provide them with information that is of value to them and will benefit their interaction with your company?
Once you have thought about these questions and you have concluded text messages will be beneficial for both you and your client, you can sign up for a texting service that will help you to set up a number and manage your messages.
The future of text messages for business
It is predicted the number of businesses using text messaging as a form of communication is only going to grow. It is predicted that 3.5 trillion business SMS messages will be sent in 2023 which is an increase of 1 trillion from 2019.
It's safe to say that text messaging for commercial reasons won't be going anywhere soon. Although it seems to be a more analog way of messaging in an age of Facebook bots and instant chats, it doesn't cross the line between commercial and personal. Messaging by SMS will remain a crucial channel for businesses to send communications for the foreseeable future. In fact you can expect to see a lot of enhancements to text messaging in the coming years.
Great Business Text Messaging Tips
If you need to reach lots of people easily and efficiently, there's nothing like business text messaging. But texting is personal, and there are also certain customs and texting etiquette rules to keep in mind whenever you're texting a customer.
That said, many customers would rather communicate with a business via text than a voice call, but it doesn't mean that you can start sending emoji-filled, mass texts to everyone and anyone. Aside from running the risk of tarnishing your brand reputation before you even get started, there are certain things that you'll need to consider before kicking things off.
Craft a Relationship
Just because you have someone's mobile number doesn't mean that you can reach out for any old reason. Texting is typically reserved for existing relationships, so that means any business text messaging communication should respect the existing rules of the medium. Before texting, make sure that they've contacted you, given consent to be contacted, or have initiated the relationship first.
Respect the Relationship
It's true that some customers will jump at the chance to communicate via text -- others might loathe the idea. Instead of jumping right in with a massive business text messaging campaign, why not let your customers opt in to this exclusive service first? Send a helpful text up front, giving an easy opt-out but providing an opportunity for them to choose texting as their preferred communication channel.
Always Be Introducing
While you're likely to save the contact information of your friends, you probably aren't saving every business that you interact with on your phone. That means that for every new interaction, even if you've communicated with a certain customer dozens of times, you need to introduce yourself -- if nothing else, it'll help avoid misunderstandings and angry replies.
Be Authentic
You might be engaging in business text messaging, but it's okay to still be real. If your messages are too detached, customers may get frustrated and feel like they're not communicating with a real person. You don't have to come off like a bestie, though it can help to interject some personality into your communications.
Know Your Boundaries
Whether you're used to texting family and friends into the wee hours of the morning or not, you'd never want to text a customer outside of normal business hours. If someone couldn't call you about your business at a certain time, don't reach out to customers when they're likely to be sleeping or doing something else.
Don't Rely Too Much on Texting
Sure, you can get a lot done with just texting. But, sometimes, you have to know when it's better to pick up the phone and have a real conversation. You can get a lot more done in a few minutes on the phone than you ever could in text, especially with regard to sensitive payment details or other information, so don't use business text messaging as a crutch.
Say Goodbye
You wouldn't end a phone call with a client or customer by just hanging up, yet that's how many people end their text message threads. As a business, you'll have to be very clear when a text thread is wrapping up, if only so that the customer knows what to expect next.
Related Categories
Ron Kinkade is the Head of Marketing at Text-Em-All, an automated calling and mass texting company that provides solutions for small and medium-sized businesses, large corporations, membership organizations, community groups, and individuals. Ron has more than 20 years of experience with a proven track record of success. Ron enjoys bass fishing, beach vacations, and spending time with family.